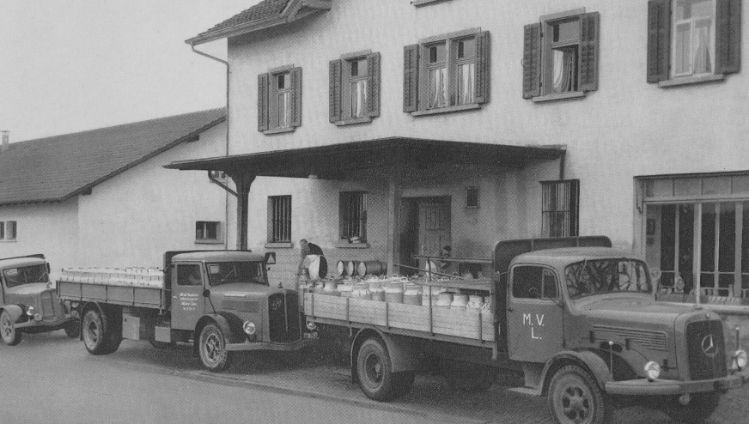 The story behind Emmi
Our roots in milk processing date back to 1907. This unique heritage and "savoir-faire" continue to shape the way we develop our business and create the best dairy moments for our consumers – day after day.
1907
Central Switzerland Milk Association
Following preliminary consultations in 1904 and 1905, 62 dairy farming cooperatives found the Central Switzerland Milk Association in Lucerne (MVL) on 9 February 1907 – the predecessor organisation of what is now Emmi. The MVL unites 1,768 dairy farmers from the canton of Lucerne who together keep 15,310 cows. The founding board is chaired by Rudolf Schläfli from Sursee.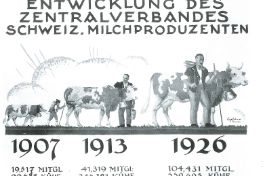 1914-1918 | 1939-1945
World Wars
State control of milk production and milk processing. Conversion of MVL's old shepherd's hut in Emmen into a milk regulation unit.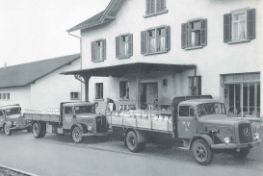 1947
"Emmi" brand
First use of "Emmi" as a brand (in reference to the municipality of Emmen) for soft cheese and yogurt.
1960er
New construction
New construction of the "Milchhof" production facility in Emmen and construction of the production facility in Dagmersellen.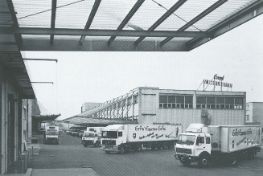 1993
The company "Emmi AG" is founded
The members of the Central Switzerland Milk Association (MVL) decide to separate association activities from commercial activities in favour of a modern division-based structure. The company Emmi AG is founded on 23 June 1993 within the framework of an annual general meeting.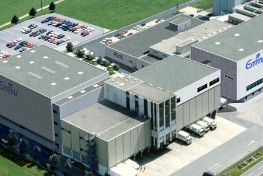 2002
Number 1 in the Swiss dairy industry
Emmi takes over the cheese business of Swiss Dairy Food. This transaction sees the integration of Gerberkäse AG in Thun, Fromagerie de Saignelégier SA, Fromco (Affinage) SA in Moudon, Goldbach & Roth AG in Lützelflüh, Käsespezialitäten AG in Utzenstorf, Lataria Engiadinaisa in Bever, Säntis Fromsuisse SA in Gossau and Top Cheese Switzerland AG in Ostermundigen into the Emmi Group. This makes Emmi the no. 1 in the Swiss dairy industry.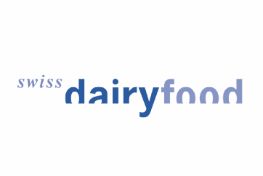 2003
Benecol
Emmi launches the cholesterol-lowering yogurt drink Benecol on the market in Switzerland, Spain, Portugal, Austria, Germany and the UK.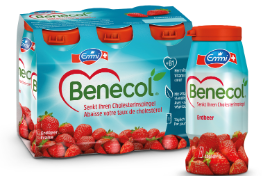 2004
Listing on stock exchange
On 6 December, Emmi AG shares are traded on the Swiss stock exchange for the first time.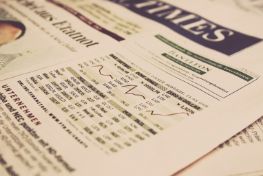 Since 2006
Growth
Growth in Switzerland and abroad: Emmi Roth, Onken, Molkerei Biedermann AG, A-27, Kaiku, etc.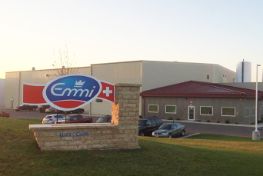 2015-2017
Internationalisation
Increasing internationalisation and expansion of the portfolio: J.L Freeman (USA), Redwood Hill Farm & Creamery (USA), Bettinehoeve (NL), Cowgirl Creamery (USA), increased stake in Surlat (CHL), Mittelland Molkerei (CH), Lácteos Caprinos (ES), Meyenberg (USA), IFF (IT), Laticínios Porto Alegre Indústria e Comércio (BRA)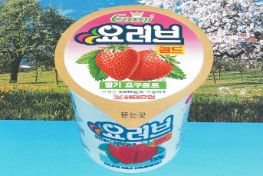 2016
Partnership with WWF
Emmi sets itself specific sustainability goals for the first time and enters into a partnership with WWF Switzerland.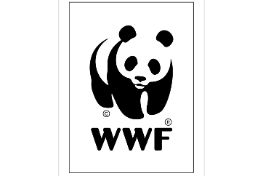 2017
Niches
Expansion of strategic niches: desserts, organic and goat's milk products.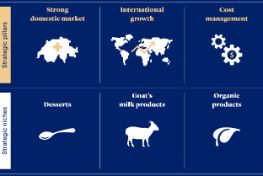 2018
Investments
Emmi increases its stake in key subsidiaries, including in Tunisia (Centrale Laitière Mahdia), Spain (Kaiku) and the Netherlands (AVH Dairy).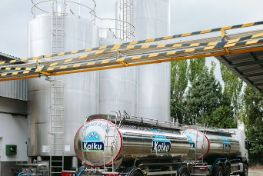 2019
Emmi increases its stake in Brazilian company Laticínios Porto Alegre Indústria e Comércio S.A.
Emmi increases its stake in Laticínios Porto Alegre Indústria e Comércio S.A, based in Ponte Nova in the state of Minas Gerais (Brazil) from 40 % to 70 %. Emmi has held a stake in the dairy since July 2017, which has continued to perform well since then and is now among the top three largest dairies in its primary market of Minas Gerais.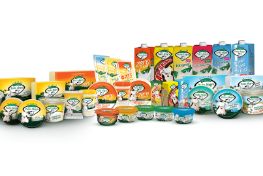 2020
Sustainable milk
Emmi is a pioneer of the "swissmilk green" sustainability standard for the Swiss dairy industry. Today, nine out of every ten litres (93 %) of milk that we process in Switzerland are sustainably produced.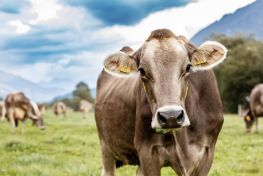 2021
New Emmen cheese dairy
Emmi is strengthening its presence in Switzerland and investing CHF 50 million in its traditional location in Emmen. A new wing will replace the more than 40-year-old cheese dairy building, providing space for highly professional and resource-saving cheese production and creating additional capacities in line with the company's long-term growth plans. Commissioning is planned for the end of 2022.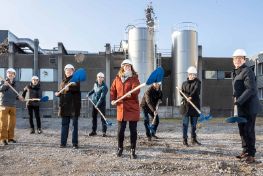 2022
Purpose and strategy
Taking responsibility over the long term – that's what Emmi has always stood for. This conviction is now also contained within our Purpose: 'Together, we create the best dairy moments – both today and for future generations.' Emmi is also refining its strategy with a view to facilitating sustained successful and profitable business development.