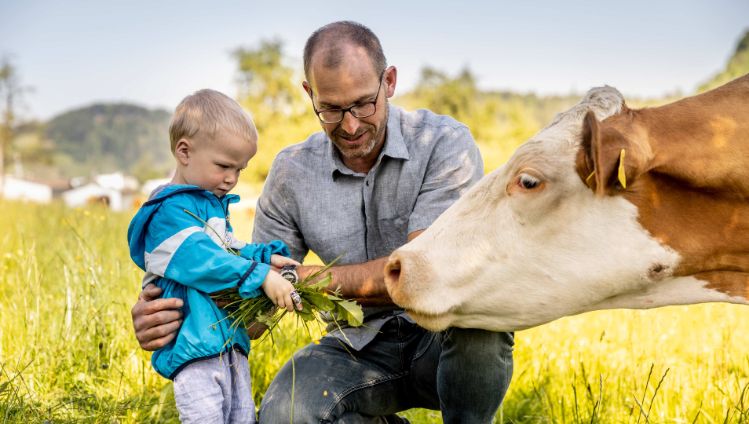 Caring for our communities
We create positive social impact and shared value while making sustainable dairy the norm.
Through our work, we also contribute to social development and count on the commitment of our suppliers and partners every day – from the farmers who supply our milk to our trading partners to the communities where our farms are located. Only by working together will we be able to create long-term added value and successfully develop our business in an environmentally and socially sustainable way.

In rural regions, in particular, we directly and indirectly create substantial added value and support our milk suppliers in a variety of ways to produce more sustainably. We also ensure that all of our procurement is conducted in accordance with ethical principles and that human and animal rights are respected throughout our supply chain. Specific initiatives and partnerships, such as with WWF Switzerland, round off our social commitment as a primary provider of safe, high-quality and nutritious dairy products to millions of people.

Naturally, our vision of sustainable milk production also includes environmental aspects. To reduce greenhouse gas emissions from milk production, we have therefore set ourselves the target of reducing emissions from milk production by 25% per kg of milk as part of our environmental field of action.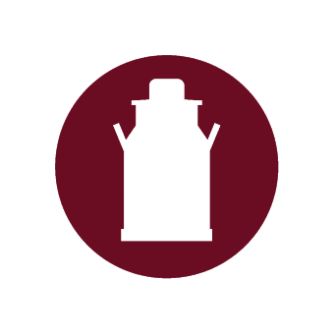 Our 2027 target
We will process 100% sustainable milk worldwide

We strive to stand for products made from sustainable milk – worldwide. To reach this target, all milk suppliers must meet regionally above-average standards by 2027. We evaluate this using a scientifically based list of criteria. In our domestic market of Switzerland, where sustainability has long been an important differentiator compared to milk products from other countries, we are committed to further developing the 'swissmilk green' industry standard.
We are a pioneer of the sustainability standard 'swissmilk green'. As early as 2016, we set ourselves the goal of only processing sustainably produced cow's milk in Switzerland. Our efforts contributed to the launch of the joint 'swissmilk green' standard by the Swiss dairy industry in September 2019, which incorporated a large number of our considerations. Swiss dairy farmers must meet ten basic and two additional requirements.
Today, 94% of the approximately 900 million kilograms of milk processed by us in Switzerland every year already meet the standard. Almost all dairy farmer and supplier that we use produce in accordance with the standard, thereby helping to ensure that Swiss dairy products are ahead of the field, particularly in terms of sustainability. At present, we are working with stakeholders in the industry to refine the standard, primarily regarding the climate, biodiversity and animal welfare. In 2022, we also launched the KlimaStaR Milk project to enhance climate protection and resource efficiency in Swiss milk production. Now that the greenhouse gas baseline has risen, reduction measures are currently getting underway, as well as in-depth analyses on food-feed competition.
To further improve animal welfare, environmental protection and prospects for farmers, we are extending our work beyond Switzerland. Based on a list of criteria developed with experts, we assess the initial situation: how sustainably are the milk suppliers in our subsidiaries producing, and how do they compare with the regional average? On this basis, we are setting targets for improvements to be achieved by 2027. For instance, we drew up a sustainability analysis with Quillayes Surlat in 2022 and developed targets for animal welfare, antibiotics and waste in alignment with this.
If there is no quantitative baseline available, companies have qualitative targets. For instance, Emmi Roth (USA) is now including sustainability criteria in its tender for milk cooperatives and Laticínios Porto Alegre (Brazil) is supporting an internal sustainability standard, with around 10% of its milk suppliers producing their milk in-line with this at present. Locally initiated programmes also support prospects for farmers. For example, in Tunisia, where the foundation initiated by Vitalait advises more than 1,800 farmers on a variety of topics, including feeding, keeping cows, careful management of the soil and economical use of water. This commitment is to be expanded further with the support of Swiss official development assistance.
Stories
> Target achievement as of 31.12.2022