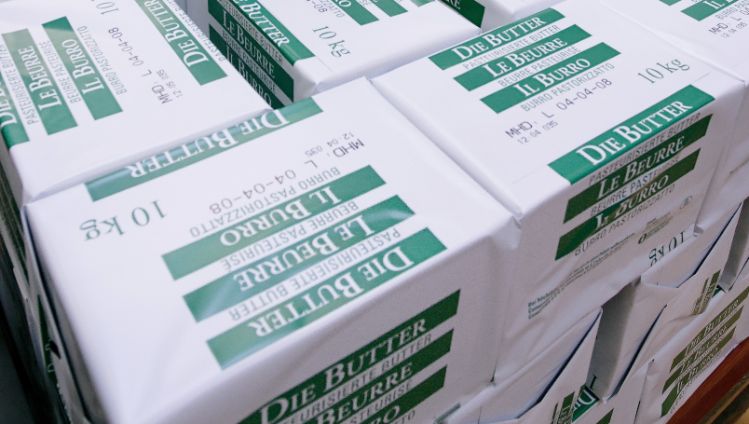 Milk quota system is scrapped in Switzerland
Since the turn of the century Swiss politicians have been weighing up whether or not to scrap its system of milk quotas. This is prompted by an earlier announcement by the European Union (EU) that it intended to review its quota system in 2003 and abolish it by no later than 2008. In 2003, the decision is made to exit by 2009. In the wake of the abolition of the milk quota system, milk volumes rise – and continue to do so until 2014. As the milk price falls, milk volumes stabilise in response to a slightly lower level. The number of dairy farmers sees a continual decline. In the EU, incidentally, the milk quota is not scrapped until 1 April 2015.
2009
Acquisition Roth
Emmi fully acquires US cheese specialist Roth Käse.
2009
Konrad Graber
The long-standing Chairman of the Board of Directors and interim CEO Fritz Wyss hands over the reins of office to Konrad Graber. In 2010, he is elected Honorary Chairman.
2009
Majority stake in LRG Groupe
The majority stake in the Geneva-based LRG Groupe is intended to support the targeted expansion of Emmi's market presence in the area of yogurt and puddings.
2009
Stake in Diprola
Emmi reinforces its position on France's cheese market by acquiring a 25 % stake in French cheese packaging specialist Diprola.
2010
Stake in Venchiaredo
Within the scope of a share capital increase, Emmi invests in the North Italian company Venchiaredo, which specialises in fresh cheese and mozzarella. In 2012, the minority stake is upped from 10% to 26%.
2010
Hochland SE
Emmi acquires the cheese producer and merchant Fromalp AG in Zollikofen from Germany-based Hochland SE.
2010
Partnership with Unimilk
Emmi enters into a partnership with Unimilk in order to benefit from the dynamic growth in Eastern Europe. Unimilk is Russia's second-largest milk processor and the no. 1 in Ukraine.
2010
Acquisition Cypress Grove Chèvre
With the acquisition of Cypress Grove Chèvre in Arcata, California, Emmi lends more weight to its business in goat's milk products.
2010
Regio Milch beider Basel AG
Emmi joins forces with the Milk Association of North-Western Switzerland to take over Regio Milch beider Basel AG in Frenkendorf. Since then, this has housed the production of a wide range of regional milk products for the Basel region.
2011
A-27
A-27, one of the leading manufacturers of Italian speciality desserts, joins the Emmi Group.
2011
Rutz Käse AG
To consolidate its position on the fiercely competitive cheese market, Emmi takes over Rutz Käse AG, based in Eastern Switzerland.
2011
Rainforest Alliance
Emmi decides only to use certified coffee going forward in its star product, Emmi Caffè Latte. The beans are sourced from plantations that meet the requirements of the Rainforest Alliance.
2012
Diprola
Based on their successful and long-standing partnership, Emmi ups its stakes in the Spanish milk processor Kaiku and the French cheese packaging specialist Diprola to majority shareholdings.
2012
Gläserne Molkerei
Emmi enters into a strategic partnership with the German organic dairy Gläserne Molkerei, acquiring a 24 % interest in the company. In 2014, it turns this into a majority stake. Since 2016, Gläserne Molkerei has been wholly owned by the Emmi Group.
2012
100 million cups of Caffè Latte
For the first time, Emmi sells more than 100 million cups of Caffè Latte worldwide within the space of one year.
2013
Stake in AVH Dairy Trade
Emmi acquires a 70 % stake in the Dutch goat's and sheep's milk distributor AVH Dairy Trade.
2013
Emmi Jogurtpur
Emmi launches JogurtPur, the first yogurt without any additives, on the Swiss market.
2013
Nutrifrais SA
Laiteries Réunies Genève buys back from Emmi the stake in Nutrifrais SA it sold to Emmi in 2009.
2013
Acquisition of Käserei Studer
With the acquisition of Käserei Studer, Emmi expands its range with selected cheese specialities such as Der Scharfe Maxx.
2013
Acquisition of Rachelli
The acquisition of the Italian dessert manufacturer Rachelli allows Emmi to reinforce its position as one of the leading European companies in Italian speciality desserts.
2013
Siggi's
In its largest foreign market of the US, Emmi seeks to gain exposure to the dynamic growth of the US yogurt market by acquiring a minority stake in the up-and-coming yogurt vendor siggi's.