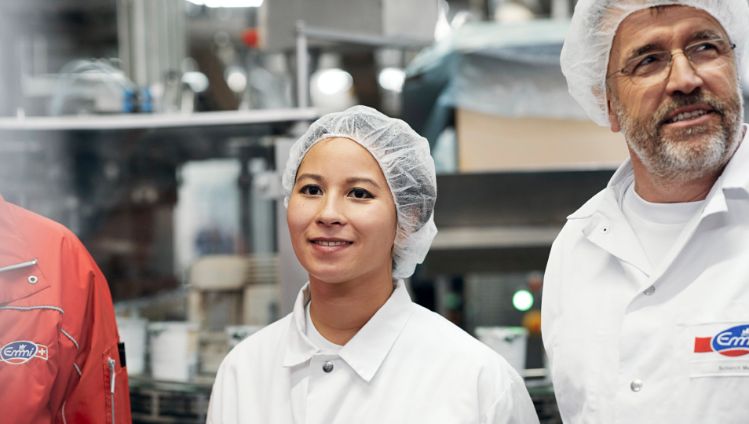 Caring for our people
We will provide a place where everyone feels welcome, valued and inspired, and offer growth opportunities for all our employees.
Our more than 9,000 employees throughout the entire Emmi Group are an integral part of our sustainability model. Only together will we be able to fulfil our purpose of 'the best dairy moments – today and for generations to come'. A strong and unifying corporate culture is just as important as a safe and healthy working environment and attractive development opportunities. That's why we also promote a diverse and open working atmosphere in which all ideas are welcome and a broad exchange of ideas takes place.
In addition, we take our responsibility as an employer seriously by making sure all our employees have a development plan in place, so that they can safeguard and even enhance their employability.

Our 2027 target
We will fill 50% of all open positions internally and will ensure that 100% of our employees have a development plan in place.
Our employees' skills and knowledge are some of our most important resources. In a constantly changing environment shaped by swift advances in technology, we want to ensure our employees are equipped with the right skills. That's why all of our employees will have a development plan in place by 2027 and be undertaking ongoing further training, courtesy of a diverse array of appealing programmes.
As a company, we hope this will grant us access to a pool of qualified specialists. Emmi therefore aims to be in a position to fill half of its vacancies with internal candidates by 2027.

> Support for the UN Sustainable Development Goals
We are now recording the development of our teams in all Emmi markets and seeing pleasing progress.
In 2022, we filled just short of 30% of vacancies internally (+3% compared to the previous year). We achieved this thanks to various individual development measures and targeted succession planning.
In Switzerland, three out of four employees (+17% compared with the previous year) already have a personal development plan, and almost half have one at the international level.