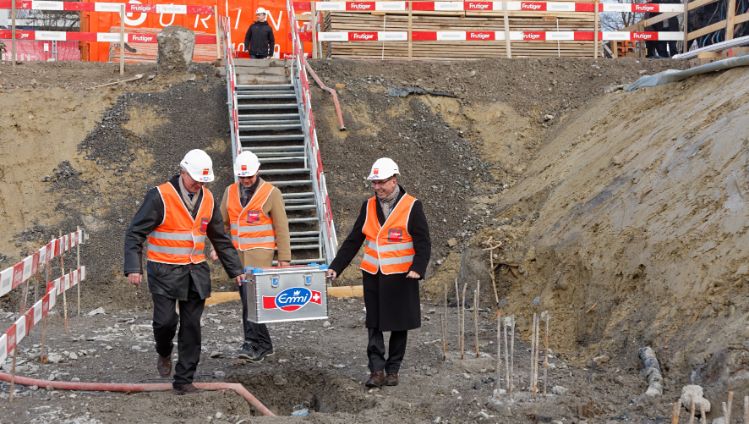 New organisation reflects internationalisation
For several decades, Emmi's international business had focused on exports from Switzerland and licence agreements abroad. The resources associated with this abroad were manageable. Since the turn of the century, however, an increasing number of larger stakes in foreign production sites have transformed Emmi into an international corporate group. Since the beginning of 2014 the new Group structure takes into account market opportunities, the importance of the Swiss domestic market and the increasing internationalisation of Emmi. The vision of Emmi as an independent company maintaining its position in open markets for the duration remains unchanged. Similarly, Emmi's three strategic pillars will also remain intact: (1) Strengthening its market-leading position in Switzerland, (2) Targeted international growth, (3) Rigorous and long-term cost management.
2014
Mexideli
Emmi makes its first direct investment in South America with a 50 % stake in Mexideli 2000 Holding SA de CV. The company is Mexico's leading importer of speciality cheeses. In 2017, Emmi increases its stake to a majority shareholding at 51 %.
2014
Penn Yan
Emmi sells Emmi Penn Yan, its production plant for aseptic dairy products in the United States, to KanPak LLC.
2014
Emmi Fondue AG and Bongrain
With the acquisition of the 34 % stake in Emmi Fondue AG, Emmi and Bongrain terminate their partnership in the processed cheese segment.
2015
J.L Freeman
Emmi consolidates its position in North America and takes over the cheese business of Canada's leading cheese importer – J.L. Freeman.
2015
Redwood Hill Farm & Creamery
Through the takeover of Redwood Hill Farm & Creamery, a key player in the premium segment, Emmi expands its range of speciality products in the United States.
2016
Bettinehoeve
Emmi adds another important pillar to its international goat's cheese network. It purchases a 60 % stake in the Dutch family company Bettinehoeve, the largest producer of fresh and matured goat's cheese in Benelux.
2016
Cowgirl Creamery
California establishes itself as a key foothold and strategic focus of Emmi. The takeover of Cowgirl Creamery and the affiliated Tomales Bay Foods sees the integration of another pioneering company in the area of sustainably manufactured speciality cheeses.
2016
Increase stake in Surlat
Through Spain-based Kaiku, Emmi increases its stake in Surlat in Chile from 62 % to 70 %. Surlat manufactures a wide range of fresh products in Pitrufquén and produces cheese in Loncoche.
2016
Mittelland Molkerei
Suhr is home to Emmi's third-largest Swiss production site. With the takeover of the 40 % stake from AZM Verwaltungs AG, Mittelland Molkerei is consolidated in full into the Emmi Group.
2016
Partnership with WWF
Emmi sets itself specific sustainability goals for the first time and enters into a partnership with WWF Switzerland.
2017
Lácteos Caprino
Emmi reinforces its value chain in this attractive niche market with a 80 % stake in the Spanish goat's milk processor Lácteos Caprinos.
2017
Meyenberg
Emmi takes over US goat's cheese manufacturer Meyenberg. The company is returned to John P. Meyenberg, son of a Swiss emigrant who had sold his firm to Harold-Jackson in 1934, whose family had turned it into a nationwide supplier of condensed milk and milk powder.
2017
IFF
The third dessert specialist from Northern Italy joins Emmi in the form of IFF. The family company was founded in 1992 and complements A-27 and Rachelli with its innovative packaging, among other aspects.
2017
Laticínios Porto Alegre Indústria e Comércio
Emmi acquires a 40 % stake in Brazil-based Laticínios Porto Alegre Indústria e Comércio, headquartered in Ponte Nova in the state of Minas Gerais.
2017
Venchiaredo
With the sale of the minority holding in fresh cheese manufacturer Venchiaredo, Emmi focuses its strategy on the dessert business in Italy and cheese exports from Switzerland.
2018
Sale of siggi's
After a very successful partnership lasting five years, Emmi sells its minority stake in siggi's to French milk processor Lactalis.
2018
Number 2 in Tunisia
Emmi is very happy with the performance of Centrale Laitière de Mahdia (Vitalait), the no. 2 on the Tunisian milk market. Via its Spanish subsidiary Kaiku, the holding in Vitalait is increased in two steps, initially from 45.4 % to 54.7 % and then in 2021 to 64.0 %.
2018
Increasing stake in AVH
The Dutch trader in goat's and sheep's milk products, AVH dairy, has evolved into a key pillar of Emmi's international goat's milk network. Emmi underlines this by increasing its stake from 75 % to 90 %.
2018
Increasing stake in Ambrosi France
As the Italian desserts business becomes more and more important for Emmi, so does the role of Ambrosi France, which distributes the desserts manufactured by A-27 in France. With that in mind, Emmi increases its stake from 51 % to 85 %.