From our early days as a regionally based organisation, we have evolved into an international group present in 15 countries, with leading market positions and strong local roots.

Our products are sold in 60 countries and we generate more than half of our sales abroad.

Leading brand concepts such as Emmi Caffè Latte or the Emmi Kaltbach cheese range exemplify our pursuit for exceptional quality, innovation, and delicious food and specialities.

Facts & Figures as at 31 December 2020
93 %* (processed in Switzerland)
*according to "swissmilk green" standard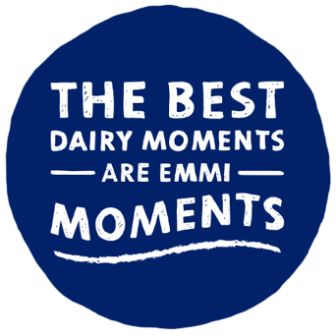 Our heritage
Our roots in milk processing date back to 1907.

This unique heritage and "savoir-faire" continue to shape the way we develop our business and create the best dairy moments for our consumers – day after day.

We cultivate close relationships with farmers and our milk suppliers, operating a spectrum from small artisan businesses to state-of-the-art production facilities.

Dairy farmers from the heart of Switzerland organised as a cooperative still hold a majority stake in Emmi. We are listed on the stock exchange and hold our own in international competition.

We take responsibility for our long-term actions along the entire value chain and systematically align our business model with sustainable growth.

Our strategy
Our sustainable economic success is based on a solid corporate strategy. We work hard to strengthen our leading position in the Swiss home market and drive our international growth with a continuously optimised brand and product portfolio supported by strong innovations and brand concepts.

Our international presence allows us to diversify geographically, exploit synergies and economies of scale, and participate in growth in emerging markets. In order to be able to invest in sustainable growth and innovation, we also pursue rigorous cost management throughout the Group.

In addition to these three main pillars of our strategy, we also invest in the development of attractive niches such as organic and goat's milk products and desserts.