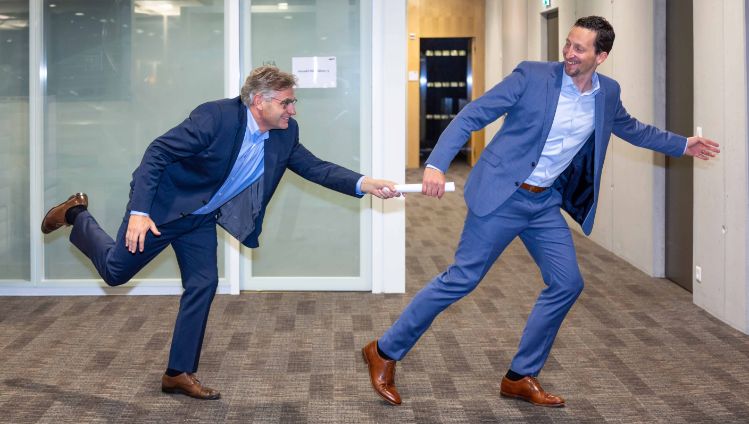 #Company - 21 January 2022
Handing over the baton: Emmi promotes junior staff from its own ranks
Jonas Leu (38) completed his apprenticeship at Emmi, worked in Spain and Chile and now heads the fast-growing Division Americas with 13 subsidiaries. Matthias Kunz (61) has carefully prepared him for this demanding task. A change that shows the development opportunities Emmi offers and how internal managers are promoted.
The Swiss relay runners are world-class because they have perfected the baton handover. How's it going for you guys?
Matthias: "It's going very well; we're a well-oiled team."
Jonas: "Working with Matthias for a year helped me massively. Matthias introduced me to the various subsidiaries. Of course, I'm delighted that I can continue to count on Matthias' vast wealth of experience in the future."
What exactly is the job of a division manager?
Matthias: "The aim is to achieve the goals we have set within the Emmi Group's strategy. The Division Americas is Emmi's growth engine; as division head, you have to strengthen market relevance in each country."
"In normal times, I'm on the road for about 40 percent of my working hours."
As a division head, are you constantly traveling, basically spending your life on a plane?
Jonas: "In normal times, I'm on the road for about 40 percent of my working hours. The proximity to subsidiaries, employees, customers and markets is important. You also have to develop a feel for the different situations and needs. At the same time, it's also important for me to be close to the Group Management and the various corporate functions."
Emmi is spread across the entire American continent with a wide variety of brands and companies. Jonas, does it benefit you now that you spent a long time in Chile and, before that, in Spain?
Jonas: "My time as Managing Director in Chile particularly helps me today to understand what the subsidiaries need from us, what support is important and what they have to deliver. And that sometimes it can be too much." (laughs)
How much Emmi is in the individual subsidiaries?
Matthias: "We always look very closely at acquisitions to see whether the company fits with Emmi, especially in terms of values and management culture. It must fit. That's why there's a piece of Emmi in everything."
Matthias, what are your most important tips for Jonas?
Matthias: "Above all, I'd tell Jonas to keep a cool head: it takes a thick skin and the will to persevere. But the job is fun, and we have great subsidiaries to work with moving forward."
About Jonas Leu
Jonas Leu (38) completed his apprenticeship as a dairy technologist at Emmi, later studying food science at ETH Zurich. For just under four years, he was industrial manager at Emmi subsidiary Kaiku in Spain. From 2017 to 2020, he headed the Surlat subsidiary in Chile as Managing Director, and from the end of 2020, he was also responsible for the Quillayes Surlat merger.

About Jonas Leu
Matthias Kunz (61) has been a member of the Group Management since 2002 and, after heading Emmi International in 2014, assumed responsibility for the Division Americas, which has developed strongly during this period and now contributes around one-third of the Emmi Group's total sales.