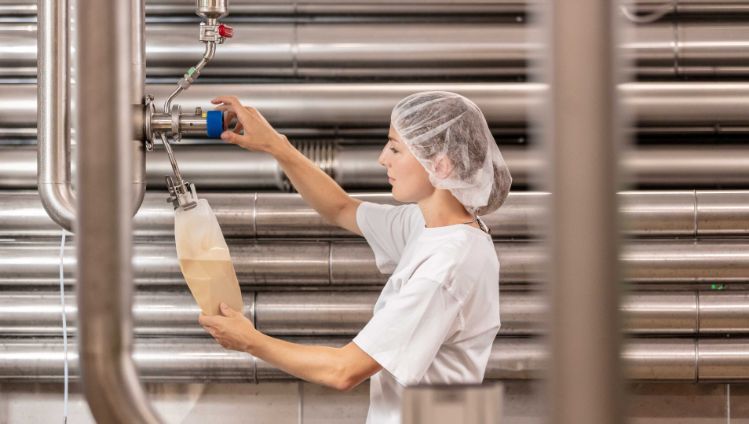 #People - 9 April 2021
"I like to try new things"
At age 30, she is the first woman at Emmi to head a department in production. A department with an all-male staff. She admits she still makes mistakes, but also knows what she's capable of. Her motto is: you should never have to wonder "what if?"
At the age of 30, Susanne Frey is not one to overestimate herself; however, the trained food technologist is proud of her achievements. "I still make mistakes here and there and my colleagues still have to be patient with me," she says with a grin. But she does know what's in her career knapsack, she adds, and it's already quite full.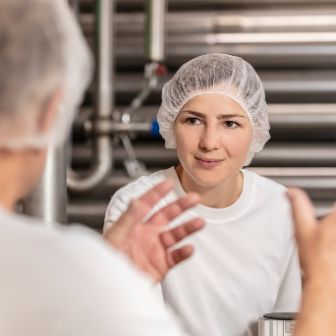 Emmi as a gut decision
Growing up on a farm, Susanne Frey was born with milk in her cradle. She has always liked to use her head, but also her hands. An exchange year in Australia proved to be a pivotal experience. "I was 17 and the night before I left I thought: goodness me, what are you doing?" But in the end, she says, it was the best decision she ever made. After graduating, she was all set to join Migros as a trainee, but decided to take up a job at Emmi instead.

"The friendly people, the family atmosphere – it was a gut decision."
"I'm pleased if I can perhaps open doors for other women in this area."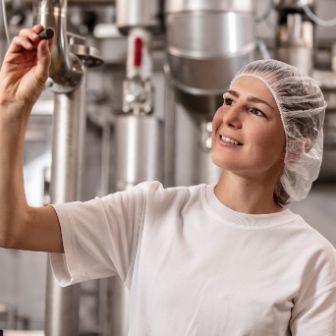 Female boss in a male domain
What followed were stints in Development at Emmen, EOE Ostermundigen, then Emmen again, where she worked on the new dairy project, and finally Redwood Hill in California. In fact, they would have liked to keep her in Ostermundigen but she wanted to gain more experience. "I'm always curious, like to try new things and never want to have to ask myself: what if?"
In December 2019 things finally fell into place and she became team leader for UHT/Past in Ostermundigen. And when the department head position became available in the summer of 2020, she didn't hesitate for long. "After all, I had already got to know and appreciate the team." Now she's the boss of 50 men. "I'm pleased if I can perhaps open doors for other women in this area."

You could certainly describe Susanne's path as steep. Indeed, in her private life she enjoys spending time in the mountains. "I love rock climbing, but I'm very cautious."