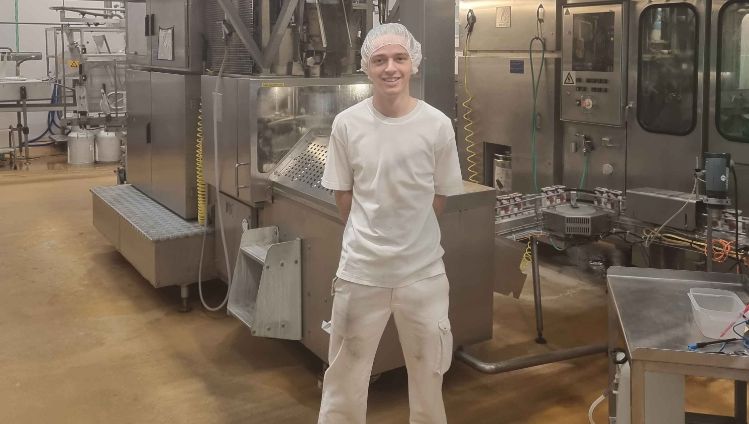 #People - 7 January 2022
"Emmi is a great employer"
As part of our sustainability strategy, Emmi has created a place where all apprentices and employees feel welcome, valued and inspired and have opportunities for development. Luke Haller is no exception. He is learning the traditional craft of a dairy technologist at Emmi in Ostermundigen, Switzerland. In this interview, he tells us why he needs to be good at math, why he is fascinated by the world of milk processing and what opportunities for development he has at Emmi.
Luke, how did you come up with the idea of becoming a dairy technologist?
By chance. My teacher put up flyers about it. And although I already had an apprenticeship as a landscape gardener at the time, I liked the trial apprenticeship at Emmi so much that I switched – a 180-degree turnaround.
What skills does a dairy technologist need to have?
Aside from being interested in food and microbiology, you shouldn't be bad at math.
"My favorite thing to do is to process milk."
What tasks do apprentices perform?
As an apprentice, you are assigned to different departments. At the moment, for example, I'm busy filling cream, milk and chocolate milk into packages with the tetra machine.
What is your favorite task?
My favorite thing to do is to process milk. The heating is the most fascinating step in the process for me. This is because milk, which normally goes bad after three days, can be heated to obtain a product that has a shelf life of over three years.
What is the most challenging thing for you?
Repeatedly moving between departments is a big challenge. Because you have to keep in mind all the details for each department; for example, how to control complicated processes.
"Emmi also enables young professionals to work abroad."
What career opportunities do you have at Emmi after completing your apprenticeship as an EFZ dairy technologist?
After the apprenticeship, you can either complete the vocational diploma or attend technical college at level 1 or 2. After that, you have a lot of options at Emmi in terms of advancement. For example, you can become a team manager, or a department manager in the milk, yogurt or ice cream department, for example. And Emmi also enables young professionals to work abroad.
What do you like best about completing an apprenticeship at Emmi?
Emmi is a great employer. All the employees are very friendly. The fact that Emmi has highly developed operating sites also means that we have highly trained employees in every department.