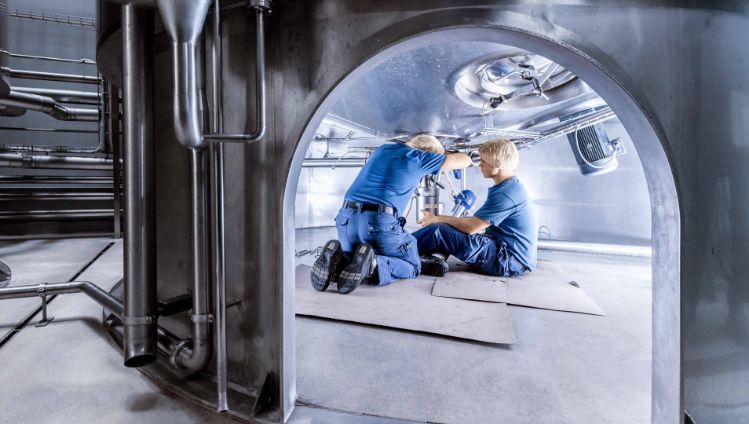 #People - 8 October 2021
Nothing works without team "Blue"
Emmi is white – dairy products and employees dressed in white. Not entirely: there's also team "Blue", the technicians. They often go unnoticed until a machine breaks down and their help is needed. However, their work is not only vital, but also exciting.
They're hard to miss in their blue overalls. But they get lost in the crowd in the Emmi world, which is dominated by their colleagues dressed in white – the employees in production. And yet they couldn't be more indispensable: if a plant comes to a standstill, it is team "Blue" that comes to the rescue. They have to get the machine running again as quickly as possible.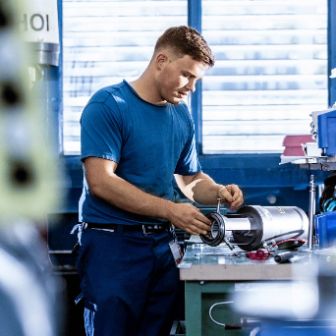 30 million per year
Emmi Switzerland employs some 200 Technology staff. Larger sites such as Suhr, Emmen and Ostermundigen have teams of around 40 to 50 people. Roughly CHF 30 million are invested annually in Switzerland for the maintenance of technical equipment in the three areas of infrastructure, logistics and production facilities.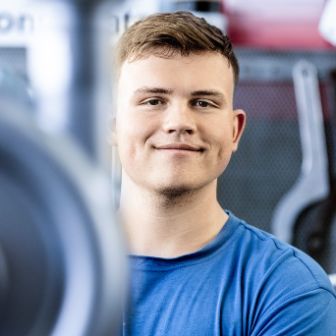 "A dream job"
A glance at the various areas at the Suhr site shows just how diverse the world of technology at Emmi really is. General mechanics are on site 24 hours a day in three shifts during the week and on standby at weekends. Most of what is done here is preventive maintenance.

"We replace the rubber seals at regular intervals, for example," says Silvano Knöpfel, mechanical specialist. For polytechnician Mattia Sigrist, it's a dream job. "As a youngster, I was always tinkering with mopeds. I love the variety of my tasks here at Emmi."
"As a youngster, I was always tinkering with mopeds. I love the variety of my tasks here at Emmi."
Labyrinth of spare parts
There's also a lot to do in logistics, where a multitude of technologies are used to bring the countless pallets to the right place. A cellar room of the spare parts warehouse contains almost 30,000 different parts – a labyrinth of screws, rubber seals, electrical parts and hoses.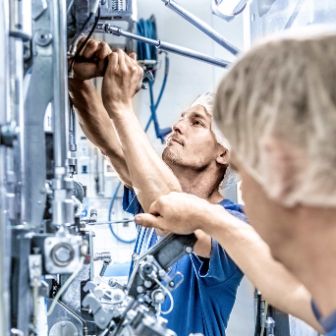 You need to be good with your hands
Things can get stressful at times for the "drinking milk mechanics". In Suhr, eight people give of their best each and every day to ensure that a machine never comes to an unscheduled standstill. But things like this still happen, of course – as irony would have it, usually when work needs to be sped up, not slowed down. "That's why we have to be inventive and good with our hands," says Dari Peitrequin, deputy team leader for plant mechanics.

Last but not least, there is engineering and electrical engineering – which comes into play when something goes wrong with the control system of a plant. But thanks to the hard work of team "Blue" and their good cooperation with team "White", even the toughest of problems are solved. As they say at Emmi: We are proactive and we are not afraid of hard work!