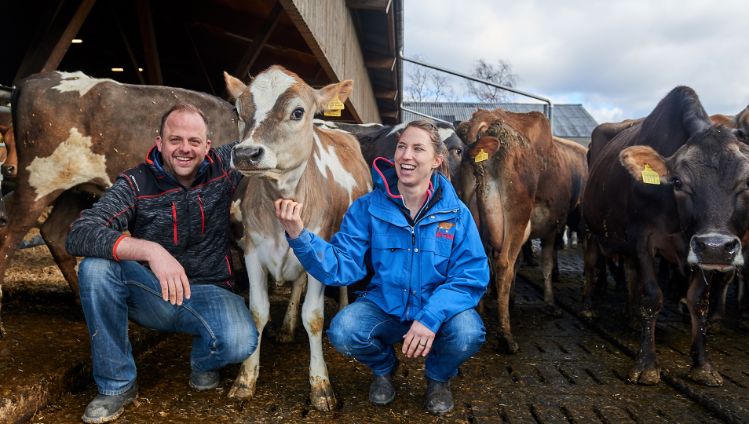 #Sustainability - 14 April 2023
«There is still this idea in farmers' minds that women have to perform better than men»
Women in agriculture still find themselves confronted with the prejudice that they have to perform better than men. «Without my husband Lukas, I wouldn't have had a chance to take over a farm,» explains Ana Burger, the Emmi farmer ambassador, who didn't grow up on the farm she currently runs.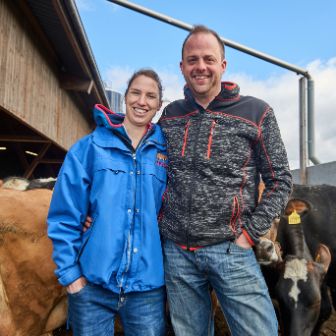 Ana and her husband Lukas are now enjoying a new stage in their lives: their youngest daughter Gianna is now going to kindergarten, so all three children are out of the house in the morning.
But even then, there is still plenty to do: while Lukas is mainly responsible for the arable side of the farm, including fodder crops, Ana is responsible for the livestock. It's easier with two people.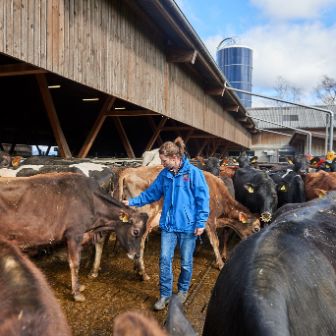 Ana didn't grow up on the farm. She is certain that she would not have been able to take over the business without her husband at her side.
«There is still this idea in farmers' minds, to some extent, that women have to perform better to be seen as equal to men.»
Today: The Burger family from Rudolfstetten (AG)
Shining a spotlight on female farmers: in 2023, the series «Unsere Bauernbotschafter» («Our farming ambassadors») will become the series «Unsere Bauernbotschafterinnen» («Our female farming ambassadors»). We will focus on women and hear from Ana and others about the challenges they face in agriculture.
Marketing cookies necessary
Please accept the relevant cookie category to view this content
"Swiss milk – milk with that personal touch!"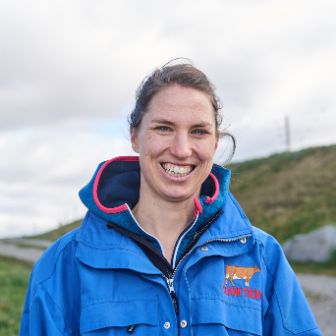 Emmi Farmer Ambassador
The long-standing partnership with our regional dairy farmers has always been particularly important to us: it is characterised by trust, closeness to our origins and quality awareness. Through this close cooperation, we can help to create value in rural regions and remain true to the core of our products, with high-quality and increasingly sustainably produced milk. Together, we create added value and make sustainable dairy farming the norm. Emmi launched the Emmi Farmer Ambassador project in 2018 to further strengthen the partnership and to put the families behind our delicious dairy products front and centre. Go to emmi.com/farmers-ambassadors for some photos and videos that will provide you with a vivid insight into the everyday life on the farms of what are now around 300 Emmi Farmer Ambassadors.