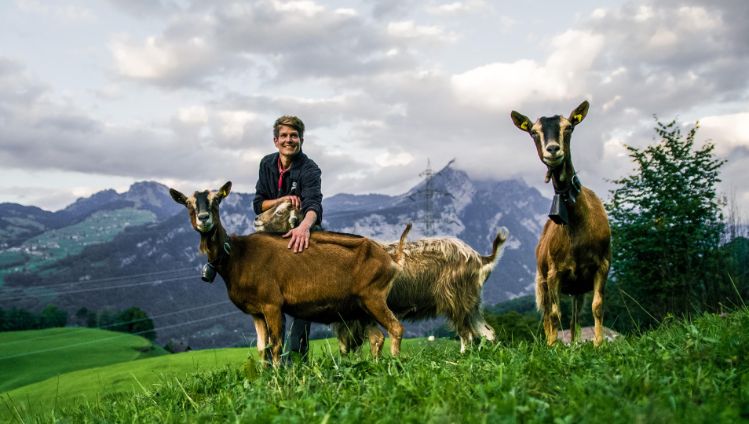 #Sustainability - 25 August 2023
'When I met Daniela, it was immediately clear that she and her farm were a package deal.'
René Sturzenegger moved to Filzbach almost 30 years ago to be with Daniela, where she ran the 'Schluchen' dairy farm together with her father. The two now run the farm together: 'The less my father was able to work, the more René took over his work and supported me.'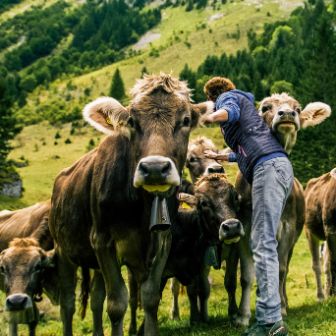 The 'Schluchen' farm is home to cows, goats, cats, a dog and several bee colonies. Animal welfare is particularly important to farm manager Daniela because she is certain that 'the way you treat a calf, from the moment it is born, will pay off at some point.'
And so the 47-year-old regularly pampers her animals with cuddles and lets some of the young animals enjoy the summer on the alp by the Talalpsee lake.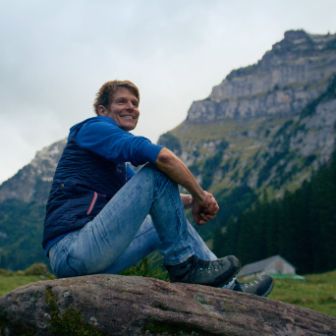 This also allows Daniela herself a moment to take a breath. 'Coming here also gives me time to enjoy the view and relax a little.'

Otherwise, there's always a lot to do, but Daniela loves her job. 'Why did I become a farmer? Because milking is a matter close to my heart and I'm happy doing it.'
Sturzenegger family from Filzbach (Canton of Glarus)
Shining a spotlight on female farmers: The 'Unsere Bauernbotschafter' ('Our Farmer Ambassadors') series has become the 'Unsere Bauernbotschafterinnen' ('Our Female Farmer Ambassadors') series in 2023. We focus on women and hear from Daniela, for example, what it's like to run a farm in a mountain region.
"We will only reach our goal if producers, processors and consumers all pull in the same direction!"
Marketing cookies necessary
Please accept the relevant cookie category to view this content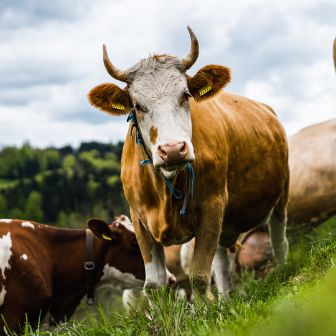 Emmi Farmer Ambassadors
Our longstanding partnership with our regional dairy farmers has always been particularly important to us: it is characterised by trust, closeness to our origins and quality awareness. Through this close cooperation, we can help to create value in rural regions and remain true to the core of our products, with high-quality and increasingly sustainably produced milk. Together, we create added value and make sustainable dairy farming the norm. Emmi launched the Emmi Farmer Ambassador project in 2018 to further strengthen the partnership and to put the families behind our delicious dairy products front and centre. Go to emmi.com/farmer-ambassadors for some photos and videos that will provide you with a vivid insight into the everyday life on the farms of what are now around 300 Emmi Farmer Ambassadors.