From the farmers who supply our milk to the places who host our facilities, everyday we count on the contribution and commitment of our communities. They are a critical part of our sustainability framework, as it is within our communities that we operate our business, source our milk and other ingredients, and sell our products. We are dedicated to supporting the people who most support us, in a virtuous cycle of care.
To Care for our Communities, we are supporting our dairy suppliers to produce in a more sustainable way, as well as ensuring all our sourcing is done ethically, with respect to human rights and animal rights across our supply chain. We also contribute to develop the local and especially rural communities through programs. And we support the wider community who buys our products by offering a range of quality, sustainable and nutritious dairy products.
Sustainable dairy
We will process 100 % sustainable milk globally
We strive to stand for products made from sustainable milk – on a global basis. To achieve this, all milk suppliers must meet regionally above-average standards by 2027. In our domestic market of Switzerland, where sustainability has long been a key differentiation criterion compared to milk products from other countries, we support the development of the "swissmilk green" industry standard.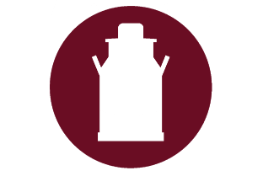 Our achievements
We are a pioneer of the 'swissmilk green' sustainability standard. 93 % of the approximately 950 million kilograms of milk processed by us in Switzerland every year comply with the standard. More than eight out of ten of our dairy farmers and suppliers produce in accordance with the standard, thereby helping to ensure that Swiss dairy products are ahead of the field, particularly in terms of animal welfare.
To further improve animal welfare, environmental protection and prospects for farmers, we are extending our commitment to sustainable milk to our activities beyond Switzerland. Locally initiated programmes also support prospects for farmers. For example in Tunisia, where the foundation launched by Vitalait advises more than 1,800 farmers on various topics, including feed, cow husbandry, careful cultivation of the soil and economical use of water.