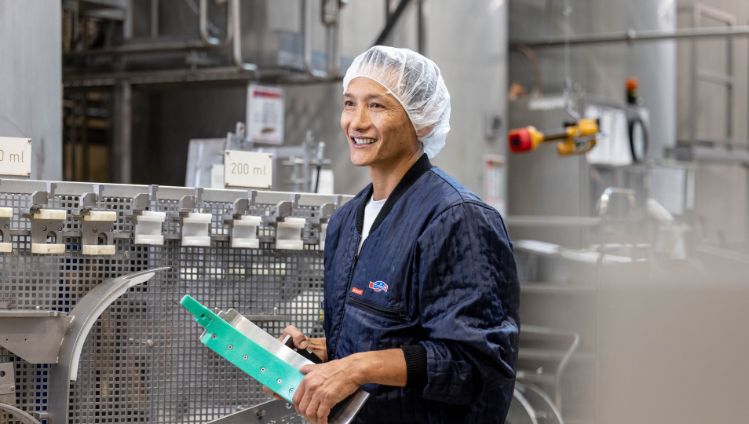 #People - 5 May 2023
"I had to fight a lot, which made me strong"
Kelsang Duktaktsang came to Switzerland as a refugee 20 years ago. Today, he is grateful for the support he has received from Emmi – and he returns the favour with his talent for finding solutions to tricky problems.
"If Emmi isn't doing well, I'm not doing well either." To understand why Kelsang Duktaktsang, 50, a shift supervisor at the Emmi site in Ostermundigen, would say such a thing, you need to know his story.
It begins with him and his wife being persecuted in their home country of Tibet, fearing for their lives and, therefore, fleeing to Switzerland in 2003.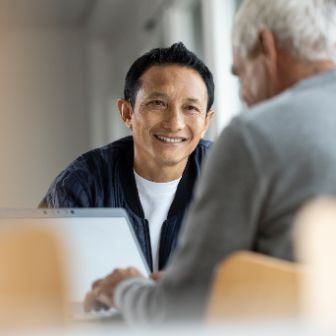 Their first time in a refugee centre in Bern was difficult and marked by uncertainty. With a six-month permit, they were finally allowed to work. His wife first found a job at Emmi in Ostermundigen, followed shortly afterwards by him.
"The HR manager had read a book about Tibet, which helped to understand our situation," recalls the 50-year-old.
Tough times with children and shift work
Both seized their chance and gave their best. Kelsang became a machine operator after two years, despite the language barrier. "We had to fight a lot, which made us strong," he says with a smile. He and his wife were allowed to work only the afternoon shift, so they could attend an intensive German course.
Eventually, he became a machine operator. When the couple had two small children, they alternated shifts so that one of them could look after the children. "That was a tough time, but we got through that too," says Kelsang.
His interest and thirst for knowledge brought him some success at work, such as when the new bottle shape for Caffè Latte Longlife caused problems. After months of tinkering and deliberating, he found the solution to feeding in the bottles.

"When I came here, I had nothing. Emmi helped me a lot."
Never give up
"I was inspired by Thomas Edison's book, which says you should never give up." In 2019, he completed training to become a federally certified machine operator and then got the job as a shift supervisor.
He is very grateful to Emmi for the support he has received. "When I came here, I had nothing. Emmi helped me a lot. That's why I give everything I can and feel very connected to the company."
This impressive story shows how important a good corporate culture is. Loyalty to the company, which is manifested through our value "We are Emmi", is seen in our day-to-day work, and for good reason: alongside the environment and society, the welfare of our more than 9,000 employees is a key pillar of our approach to sustainability.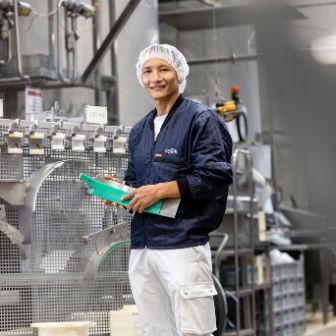 Promoting an open working environment
We provide a place where everyone feels welcome, valued and inspired, and offer growth opportunities for all our employees. A strong and unifying corporate culture is, therefore, just as important as a safe and healthy working environment.
Emmi promotes a diverse and open working environment in which all ideas are welcome and a broad exchange of ideas takes place.