#People - 16 September 2022
Happiness in career, happiness in love
Natascha was looking for a new career challenge. Her curiosity led her all the way to Spain, where she not only fell in love with the country and people – but also with David.
It was originally supposed to be for a year. It has now been five years since Natascha packed her things and flew to Spain. The "Young professionals" program offers Emmi employees the chance to go abroad for a year and gain professional experience. "I was actually too old for the program," she says with a grin. "But I thought it was a cool opportunity, so I applied – I find trying new things so exciting." Then everything started to move quickly, and Natascha got accepted.
"When the year was coming to an end, I didn't want to go back to Switzerland. "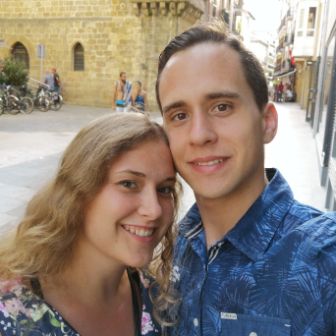 New job, new love
After a short Spanish language immersion program, it was time for her first day of work at Lacteos de Navarra in Pamplona, a production site that belongs to the Kaiku group, an Emmi subsidiary. "It was challenging at first, mostly due to the language, but my colleagues made things easy for me," recalls the Emmi employee from eastern Switzerland.

David also made things easy for her. This Spaniard had not initially caught her attention, but she fell in love with him and stayed. "When the year was coming to an end, I didn't want to go back to Switzerland. As fate would have it, a facility needed to be replaced, and a role became available as an assistant to the project manager."
Openness opens doors
This openness when faced with new challenges opened many more doors for the qualified food technologist. She has been working in product development for a year now. "The process of gradually developing a new product fascinates me and feeds my curiosity," she enthuses.

Where might this curiosity and her courage to embrace change take her next? It will be exciting to find out. But first of all, she is getting married – with everything that entails.