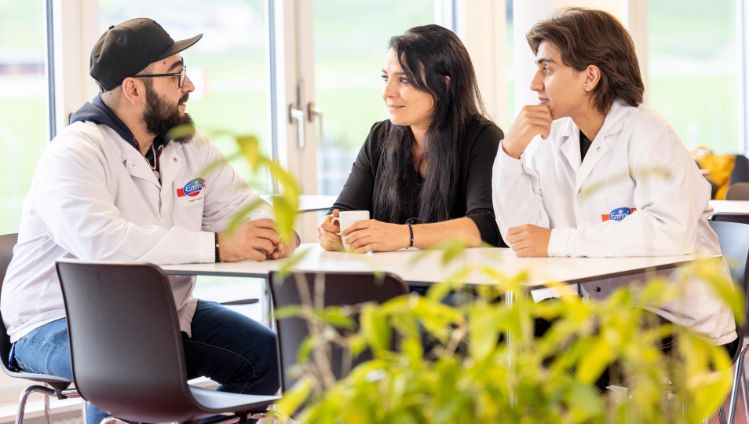 #People - 17 March 2023
It's like being part of a family
The power of family at Emmi: four members of the Oktay family work at the Emmen location and are strongly rooted in Emmi. For them, Emmi is not just an employer, but almost a second home.
It's safe to say that the phrase "Emmi is like a family" is no truer for anyone than the Oktay family. Ömer and his wife Nesrin (not pictured as she had just given birth to their third child at the time of the shoot), son Halid and sister-in-law Elmas all work in Emmen.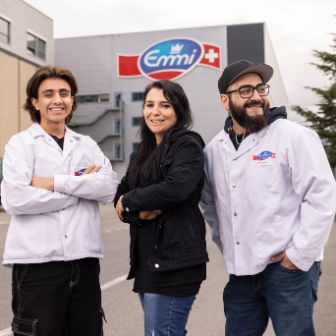 Dad brought home yogurt
But that's not all there is to it. Ömer's father used to work here, too. "I remember waiting in the evening for my dad to come home, bringing dessert and yogurt," says Ömer.

A trained bricklayer, he joined Emmi at the beginning of the 2000s through a temporary agency, and has been permanently employed as a machine operator for fresh products since 2004.
"I can identify with the company values. We're rooted here, our whole family."
Son Halid likes the friendly atmosphere
Nesrin has been a member of the Emmen location since 2016; their son began an apprenticeship as a dairy technologist last summer. "It's really engaging to see how cheese is made," says Halid.
He spent three future days at the Emmen location and completed two trial apprenticeships. He likes the open, friendly atmosphere. But doesn't it bother him that his parents work at the same place? "No, it's nice, it's like a home away from home here."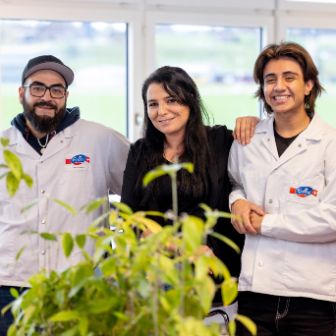 "I feel really appreciated"
Elmas started out in cheese labelling, went on to become a group leader and has worked at the cheese pre-packaging control centre. Today, she works in an interesting role as master data coordinator in Logistics. "The good development opportunities are wonderful, and I feel really appreciated."
She is happy when she sees Emmi products on the shelves while on holiday in the Netherlands. Ömer agrees. "I feel safe at Emmi and I can identify with the company values. Emmi is a lifeline for us. We're rooted here, our whole family."
Everyone is welcome
The Oktay family is not the only example of Emmi's culture of togetherness. Loyalty to the company, which is manifested through our value "We are Emmi", is seen in our day-to-day work, and for good reason: alongside the environment and society, the welfare of our more than 9,000 employees is a key pillar of our approach to sustainability.
We will provide a place where everyone feels welcome, valued and inspired, and offer growth opportunities for all our employees.
A strong and unifying corporate culture is therefore just as important as a safe and healthy working environment. Emmi promotes a diverse and open working environment in which all ideas are welcome and a broad exchange of ideas takes place.