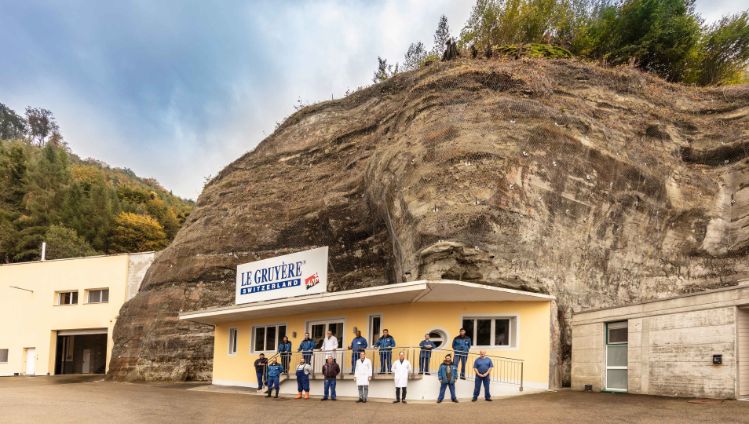 #People - 11 February 2022
"A good atmosphere is important"
100,000 Gruyère cheeses are stored in Fromco SA's sandstone cave at the Emmi site in Moudon. A dedicated team takes care of the delicious cheeses. Despite automation and sophisticated technology, employees understand the original cheesemaker craft. Three things are important for the boss: safety, quality and humor.
"You may be impressed by a few figures. For example, around 1,000 Gruyère are delivered here every day and just as many are shipped out. Or how about the fact that we take at least 20,000 cheese wheels from the shelves every day to tend to them? We deliver 8,200 tonnes of Gruyère cheese per year, making us the largest purchaser of Gruyère cheese in the world." Jean-Marc Collomb, Head of Fromco SA, which belongs to Emmi Schweiz, is proud of his 27 employees and the company.

The cheese store is located in a huge sandstone cave measuring two hectares in size. It is constantly 12° Celsius (around 54° Fahrenheit) and has a humidity of 90 percent – ideal for the cheese, which can be stored and matured here for up to nine months.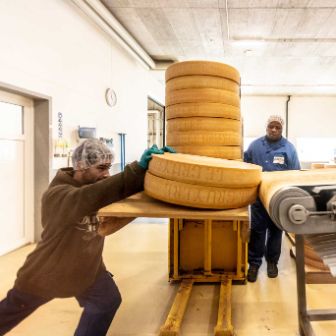 Former boxer on the team
At five in the morning, a team of five begins the first shift looking after the cheese. Employees use the forklift to drive dozens of wheels to the maintenance machine where they are brushed with salt water and loaded back onto a pallet. Each of the more than 100,000 wheels must be cared for at least once a week. "It's a lot of work for my team, who come from Switzerland and various other countries. One of them, for example, comes from the Cape Verde Islands, is a former boxer and therefore quite broadly built, which is not a disadvantage here. Most work procedures are mechanized but every now and then a bit of physical exertion is required," says Jean-Marc.
Cheeses are delivered to Emmen, Kirchberg and Kaltbach
Two additional teams of five people each start at seven. One takes care of the cheese that comes in and takes it to the cave. The other organizes the orders. The cheeses are delivered to Emmi's locations in Kirchberg, Emmen and Kaltbach. The team includes two technicians who make sure everything runs smoothly. "Fortunately, there are two women in the office, so we're not just a team of men. It's very important to me that we have a good atmosphere. Everyone should feel comfortable and welcome, as Emmi has defined and implemented in general in its sustainability strategy. That's the only way we can do a good job."
"Everyone should feel comfortable and welcome, as that's the only way we can do a good job."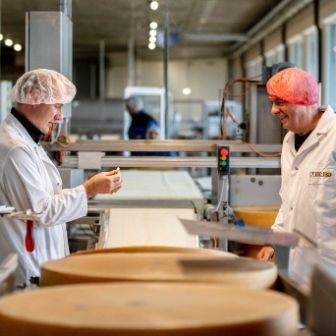 It can be enjoyable too
As a boss, he has to be strict in two areas: safety and quality. The cheese maintenance machine flips the cheese 180 degrees.

"I don't even want to imagine what would happen if someone were to end up in there. Even when it comes to quality, too, we can't do it by halves. But otherwise, I appreciate humor and subscribe to the motto: it's only those who do nothing that make no mistakes."