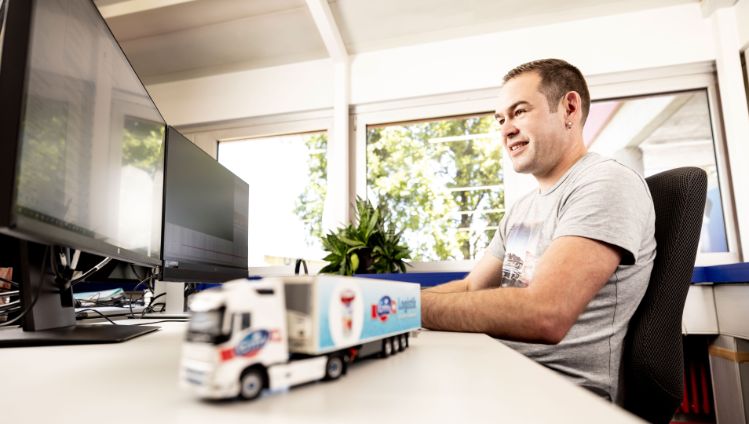 #People - 3 March 2023
Emmi fosters talent
From transporting people to transport planning and from local logistics to requirements management: how Michael and Nathalie stepped up into more complex roles. Two successful examples of how Emmi promotes professional career development.
'Driving is actually what I'm passionate about. But I'm also fundamentally open to change, so I said yes.' When his boss asked him if he'd like to work as a transport dispatcher for six months, initially, Michael Peter didn't think it would be too difficult.
But then he had quite a rude awakening. 'The first week nearly broke me – so many phone calls, so many problems, it was just really stressful.'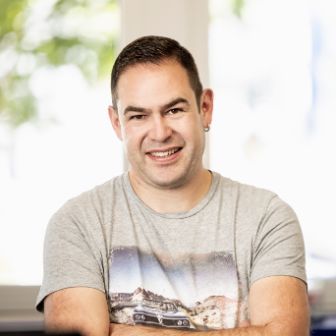 New job like a jigsaw puzzle
Following a chat with his manager and as he got into the routine, things improved. 'I simply didn't have that much experience with computer applications and coordination tasks, either; the job is like a huge puzzle that has to be pieced together.'
What was initially planned as a six-month transfer has now turned into something permanent.
"I'm really happy that I can do all of this; Emmi offers a great deal to employees who want to progress in their career."
From shift work to self-management
'Continuing education in internal logistics' is the title of the programme devised by Karin Langensand of Logistics Switzerland. It involves trainees from logistics working at a different site and on different, more complex tasks for six months.
'Moving into the office, where people are expected to self-manage to a large extent, can be a real challenge for many at first,' she explains. In the warehouse or as a driver you work shifts, and it's always clear what needs to be done.
'Now, it's all about organising your own time, prioritising tasks, putting a presentation together from time to time, and so on.'
Ultimately, it's about fostering talent. Employee development programmes like this one are promoted by Emmi and help us achieve our ambitions: alongside our strategy and our sustainability goals, we are creating an environment in which everyone has optimum opportunities for development and is prepared in advance for rapid changes in their work.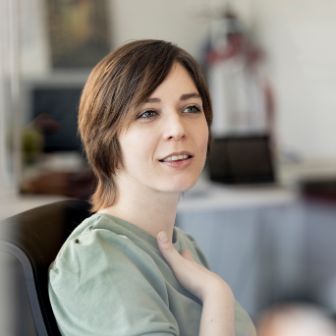 Interest and a thirst for knowledge
One beneficiary of the programme is 28-year-old Nathalie Johnson.
From her job in local logistics, she went to Ostermundigen for six months, where she took on an exciting challenge. She works in Requirements Engineer Logistics, dealing with various requirements to do with logistics systems across the whole of Switzerland.
'Really happy'
As in Michael's case, Nathalie's six-month stint turned into a permanent relocation. 'I've learned so much about systems and can see much more of what goes on behind them.
I'm challenged here, and we have a great team. I'm really happy that I can do all of this; Emmi offers a great deal to employees who want to progress in their career.'