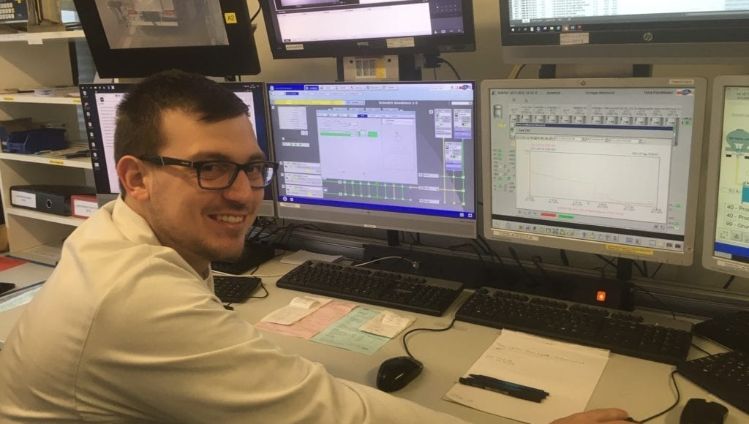 2nd place – Suhr (CH): Cooling project with potential multiplier effect
Cooling and heating processes are the major energy consumers in milk processing. Optimisations in this area require a great deal of detailed knowledge and expertise. In Suhr, thanks to tremendous personal commitment by all involved, power consumption was reduced by three percent within the space of just one year.
Marketing cookies necessary
Please accept the relevant cookie category to view this content
Cooling and heating processes are the major energy consumers in milk processing. Not only does cooling require a lot of electricity; occasionally, refrigerants are also still used, which massively exacerbate the greenhouse effect. This make optimising processes in this area twice as worthwhile.
Diploma thesis proves a great asset
The further development of our employees is a key thrust for us in many respects. From a business perspective, it is of course particularly gratifying when Emmi can benefit directly from the added know-how this brings. In the case of Dominik Kober, who completed his training at Strickhof to graduate as a food technology technician (Dipl. Techniker Lebensmitteltechnologie HF), his thesis on the subject of process cooling already proved a great asset. In the course of writing the thesis, a small team of energy and technology experts performed detailed analyses and tests which determined that flow rates were frequently much too high and therefore could not operate at optimum efficiency. By optimising the ice water volume and making adjustments to the cooling supply, it was possible to rectify incorrect programming, configurations and parameters in the control systems.

This measure helped to save 300,000 kilowatt hours of electricity. Together with other measures, the savings made at the Suhr site in 2019 totalled 700,000 kilowatt hours, or three percent of electricity consumption.
Copying encouraged
Since 2013, the Suhr production plant, which specialises in milk, cream and butter, has been able to reduce its electricity consumption by a total of 20 percent (5 million kWh) while maintaining the same quantity and quality.

Because there is hardly any difference in milk processing worldwide, the energy know-how gathered in Suhr is of great value to all Emmi Group production facilities.