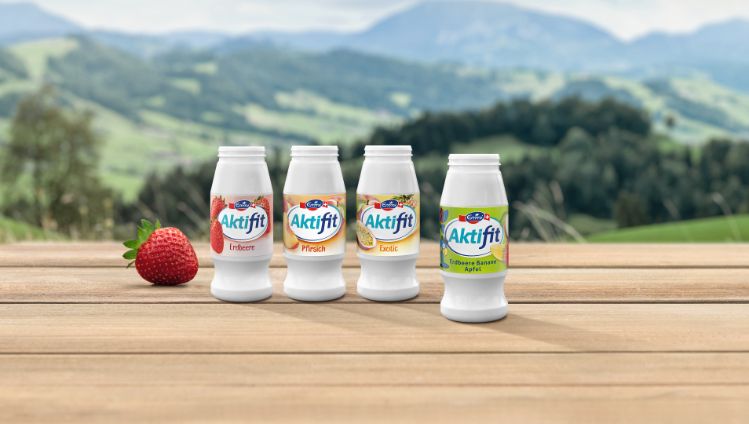 #Sustainability - 17 June 2022
Emmi Aktifit – a recycling champion?
Everyone is familiar with the little bottle full of healthy ingredients that are particularly beneficial for the gut. But how beneficial is Aktifit's packaging for the environment?
The Aktifit bottle, of which around 160 million units are produced annually, was closely examined by Emmi's Packaging Development department. Our aim is to make all our packaging 100% recyclable by 2027.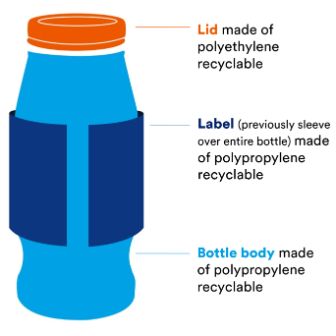 Getting fit for the environment
Thanks to close collaboration with our partners, we were able to make material changes and reduce weight in four areas.

More precisely: on the bottle, lid, cardboard carton and with a label instead of a sleeve.

In total, we save 160 tonnes of packaging material each year, which is roughly equivalent to the weight of 400 horses.
One last step
In order to fulfil all the requirements of sustainable packaging, one last step is missing: the lid must remain connected to the bottle after opening.

This will be implemented by 2024. Once this is accomplished, Aktifit meets all the criteria of sustainable and recyclable packaging - and is a true recycling champion.
Proper disposal is key
But in order for us to become recycling champions, we also have to dispose of the packaging properly!

It's only when we throw each bottle into the bottles bin and each carton into the cardboard bin that we close the loop and help ensure that we create the best dairy moments - today and for generations to come.