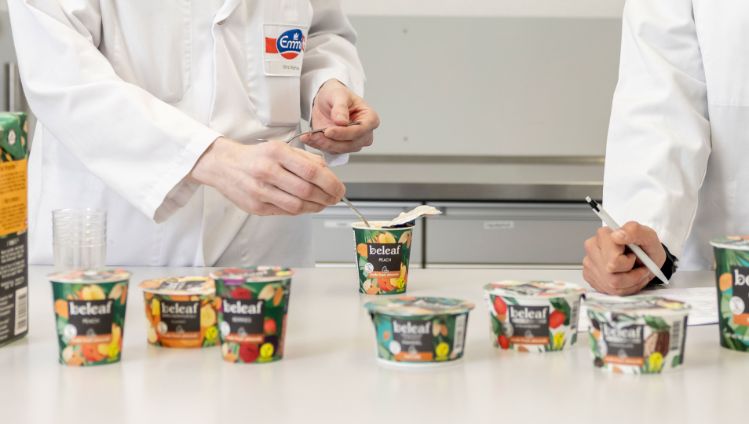 #Company - 27 May 2022
There's a lot happening in the vegan lab
Vegan food is the latest trend, and we regularly launch new milk alternatives under the "beleaf" brand. Accordingly, our Research and Development staff are busy experimenting with their creations.
The new "beleaf" barista-style oat drink has just been launched – with Swiss oats and no added sugar. New products also include the oat drink in vanilla flavor, an almond-based yogurt alternative, and an oat-based yogurt alternative in chocolate flavor. The "beleaf" range is constantly expanding, and now includes desserts, yogurt alternatives, muesli and drinks. In line with the Emmi strategy's goal of being an innovative leader in selected niches, this expansion is set to continue. A look at what Research and Development are up to at the Emmen production site reveals that there is currently a lot going on in the vegan business unit.
The hunt for protein sources
"We are currently working on optimizing existing products, among other things," says Francesca Molinaro, Project Manager for Milk Alternatives Development at Emmen, seen in the picture with her colleague Mathias.

For instance, the team in the lab takes a look at the nutritional values and tries to get them as close as possible to the original dairy products, for which protein content is of particular interest. But the lab staff are also experimenting with different raw ingredients and looking for other sources of protein. "We are on the hunt for vegetable proteins that can be sourced locally, for example."
"Unlike dairy products, which are based on centuries of experience, you have to break new ground here and do pioneering work."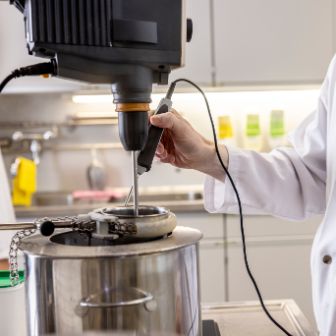 Breaking new ground
It's often the Marketing team that approaches the development team with an idea. Small-scale tests are eventually carried out in a pan, often proceeding according to the principle of "trial and error".

The process involves lots of experimentation, which is also confirmed by Michael Lötscher, Head of Business Unit Vegan. "Unlike dairy products, which are based on centuries of experience, we are breaking new ground here and doing pioneering work. Our staff in 'Research and Development' are therefore doing a great job, and an incredibly important one at that."