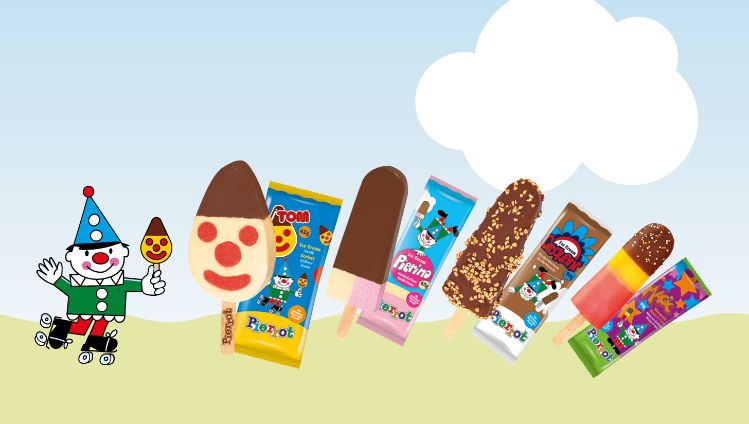 #Brands - 22 April 2022
Pierrot: the retro brand in the fast lane
The cult Swiss ice cream from the 80s is back. Just in time for the summer season 24 different palm-oil-free varieties with reduced sugar and low-plastic packaging are making a splash.
If you were around in the 80s, you'll remember grooving out to Queen, David Bowie and The Police – but just as memorable were those long afternoons at the lido, with an iconic Pierrot ice cream in hand.

The cute Pierrot mascot was revived in 2019 with six flavors, including the "Tom" and "Magic" lollies. The range now boasts 24 varieties, making Pierrot the ultimate Emmi ice cream brand. With everything from premium to classic flavors and soft ices to retro delights and ice pops, there's something for everyone, young or old.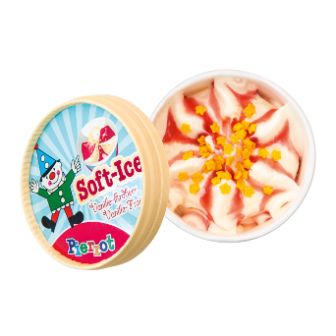 Soft ices in paper cups
Pierrot doesn't just spark nostalgia: the life-size Pierrot figure is also now on display at functions and marketing events, and has become a symbol of Swiss identity and sustainability. This is most evident in its packaging, while will gradually cut back on plastic from this year onwards, reducing plastic consumption by around 8 tonnes a year.

The packaging for two of the soft ice cups is now made entirely of paper, produced by composting at the Zurich Zoo biogas plant.
"These days, the retro brand is all about Swiss identity and sustainability."
This new development reflects the Emmi spirit perfectly. As part of our sustainability model and based on our netZERO 2050 vision, we've set ourselves the goal of making our packaging 100% recyclable by the end of 2027. And that's not all: Pierrot ice cream is completely palm oil-free and the sugar content of the recipes has been reduced.
Pierrot at the Knie Circus
Pierrot offers ice cream indulgence no matter where you are – by the lido, at a tea garden, on a boat trip, at the zoo or even at the circus. Speaking of the circus, as a Bronze Partner, Pierrot is delighted to have been chosen as the official ice cream supplier at Knie Circus performances this year, including at the Knie Children's Zoo in Rapperswil.