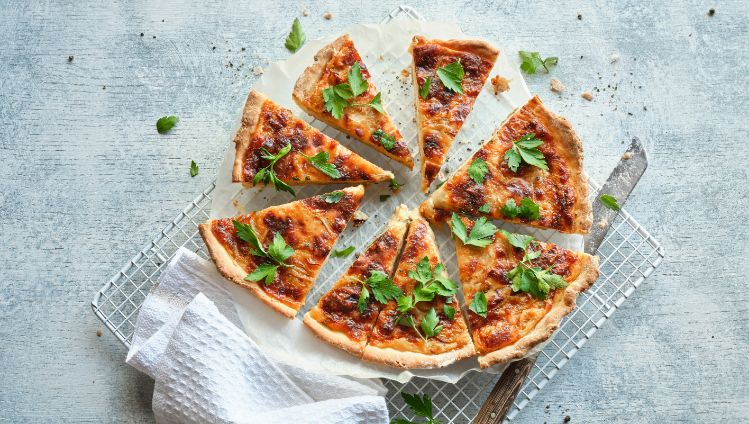 #Brands - 3 February 2020
Käsewähe – a treat for the taste buds and a great way to use up leftovers
Winter is raclette and fondue season. However, the absolute classic cheese dish for February is Käsewähe, a savoury cheese tart. Also known as "Chäschüechli", it is a staple of the Basel and Lucerne Carnivals and hugely popular among young and old alike. It's easy enough to bake your own Käsewähe, not to mention an ideal way of using up any leftover bits of cheese. We reveal the most suitable types of cheese below.
Käsewähe is an absolute classic of Swiss cuisine. It is available all year round in many bakeries, and is a particular favourite during the cold winter months. Making it yourself is quite straightforward: the key is choosing the right cheese for the main ingredient. The motto here is that the mixture makes it.
"The motto here is that the mixture makes it."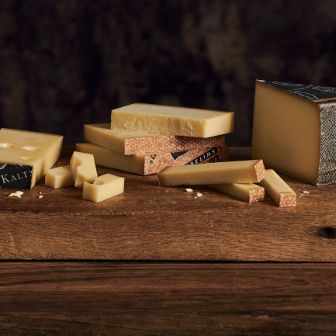 First and foremost, Käsewähe works best with a hard cheese like Greyerzer or Emmentaler. That's because the secret to a creamy Käsewähe lies in the characteristics of the cheese. Soft and cream cheeses can separate quickly and become oily after being heated. The leftovers from a mixed cheeseboard are much more suitable.

If you don't want to take any chances, use a well-matured cheese. "It's also important not to use too much cheese. You should cover the base with about a centimetre of grated cheese, then pour over a well-spiced egg mixture," explains Roman Okle, Head of Emmi Food Service and a trained chef.
Can you freeze cheese?
Even with leftovers, there's often not enough cheese in the fridge to make a decent Käsewähe. But over the last few weeks there will have been plenty of little chunks that ended up being thrown away because they were no longer fresh enough. This raises the following question: can you freeze cheese?
"Hard cheeses like Sbrinz or Greyerzer are most suitable for freezing."
Yes, you can. Whether in pieces, grated or entire wheels, cheese can be frozen without any problems. As an added bonus, a frozen piece of cheese is really easy to grate. Hard cheeses like Sbrinz or Greyerzer are most suitable for freezing.
The reason for this is simple: when cheese is frozen, the water in it freezes and forms ice crystals. These crystals break up the cheese's protein structure. When it's defrosted, the flexible cheese structure is broken and falls apart, but if the cheese is melted then this becomes largely irrelevant. You should therefore avoid freezing soft and fresh cheeses, which lose their consistency to such an extent that they become curdled.
An important side note
Smeared-rind cheese is not suitable for Käsewähe. "The smear is very dominant. The rind also means that the cheese mass isn't creamy enough, as it doesn't melt," says Klaus Kühefuss, Head of Cheese Development at Emmi. A small amount of rind is okay, but be sure to choose a washed-rind variety like Raclette Suisse. Raclette cheese is generally an exception, providing a creamy finish to a Käsewähe with other hard cheeses.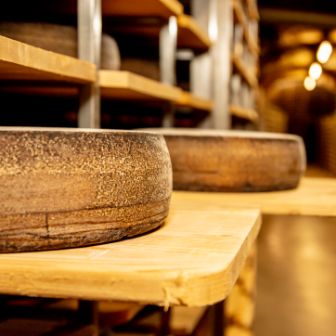 Gruyère Chäschüechli
Serves four
Preparation time: 30 minutes
Standing time: 30 minutes
Baking time: 30 minutes
Ingredients
300g puff pastry
1 leek
1 tbsp oil
Salt and pepper
200g cream or milk
2 eggs
250g KALTBACH Gruyère AOP
Freshly grated nutmeg
Butter for greasing the moulds
Flour for rolling
Baking beans for blind baking
Directions
Cut the leek into strips. Sweat briefly in a pan with a tbsp of oil. Whisk the cream and eggs together and season to taste with salt, pepper and nutmeg.

Preheat the oven to 220°C. Grease 4 Käsewähe moulds lightly with butter. Roll out the puff pastry and line the prepared moulds. Prick holes in the pastry with a fork, then cover the base with baking parchment and beans. Blind bake the pastry on the bottom oven shelf for 8 minutes.

Remove the moulds from the oven. Quickly spread the leek strips over the pastry bases, then roughly grate the cheese and sprinkle on top. Pour over the egg mixture. Bake the Käsewähen on the bottom shelf of a hot oven for around 20 minutes or until golden brown. Leave to cool on a wire rack and serve warm or cold.