Marketing cookies necessary
Please accept the relevant cookie category to view this content
Hardly any country has its waste under control. While many European countries have at least one functioning waste recycling system, the situation in the US is bleak. Immense quantities of waste are generated, the majority of which ends up in landfills or is exported.

There is no doubt that a problem of this magnitude cannot be solved by one company. And yet our Californian subsidiary Redwood Hill Farm & Creamery has decided not to give in to the intractable problem, but to instead take a step in the right direction.
Sustainability as a part of identity
Sustainability is not new territory for Redwood Hill. The company's founder attached great importance to ethics and the environment. Animal husbandry meets the highest standards, saving water is a top priority and solar panels are used to generate energy.

Offering their sustainably manufactured products in plastic pots has long been annoying those in charge at Redwood Hill. However, there is no ideal alternative yet, and it is not possible for the company to develop an innovative solution itself. An interim step that brings about a significant improvement within the scope of the possibilities has been discovered in Switzerland. A three-component pot (K3) is used almost as standard for higher-quality yogurts. The combination of a thin polypropylene pot, a stabilising cardboard wrap-around and a plastic or aluminium lid is currently the most sensible yogurt packaging from the point of view of environmental experts. It combines minimal plastic consumption with a high proportion of recyclable materials and good product protection. This reduces plastic consumption at Redwood Hill by 40 tonnes per year.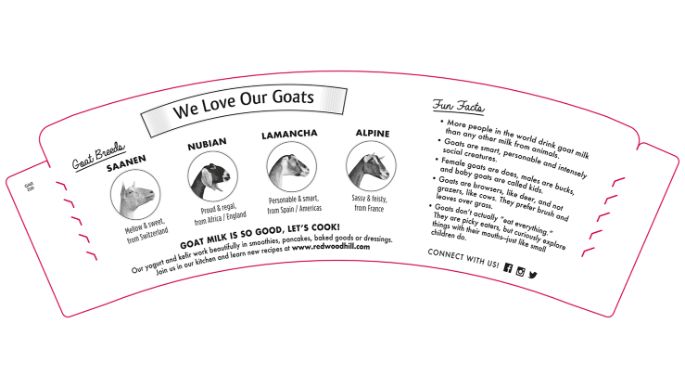 The Emmi Sustainability Award jury is aware that the use of a K3 yogurt pot is not a masterpiece of development technology and does not solve the fundamental problem of disposable plastic packaging. However, the approach of the project team, which used the advantages of a globally networked group of companies and derived a suitable solution for its own company from this, is worthy of an award.

The market-related added value that Redwood Hill generates from this new packaging is also notable, with the additional space available on the inside of the cardboard wrap-around being used for sustainability-related communication with consumers. This not only promotes the company's image but also raises consumer awareness of sustainability issues.