Manuela Steiner has been working in Dagmersellen for 13 years. It all started a little by chance. 'I was looking for a job after finishing my training as a baker and confectioner.' She took on occasional jobs in various places and had some short-term work at Emmi. Later, she obtained a permanent position.
Manuela Steiner became a process operator and soon learned to operate various systems. Alongside this, she carried out work in the office, took inventory and performed various additional tasks. 'I was always asking if there was anything else that needed doing. So then they promoted me.' The 35-year-old grins.
Eventually she was asked to contribute to the OneERP project. 'That was quite a challenge. On the first day, part of me wanted to just sneak away again. All the people around me were heads of department – it felt weird me being there as a process operator.' She stayed. She decided to take the plunge and face the challenge. 'I told myself I could do it. I'm the kind of person who gets their teeth into things and never gives up.'
"I'm the kind of person who gets their teeth into things and never gives up."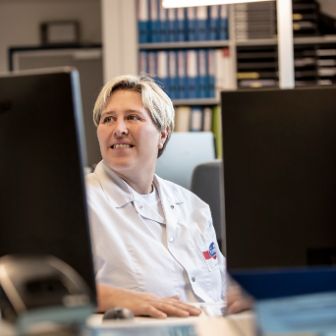 'With a passion'
Manuela Steiner's leadership qualities had been noticed. She was made deputy leader of the mozzarella production team and was accepted on to the Emmi development programme for management training.

In 2018 she completed a part-time training course in leadership at the vocational training centre in Sursee.

Last year she gained a qualification to become a vocational trainer herself, and is now supervising two apprentices.
Since the beginning of 2020 she is the team leader for mozzarella production. Planning HR and production, monitoring quality, finding solutions for all kinds of problems, managing SAP, and lots more – her job is interesting and sometimes rather demanding, she says, laughing.
'We have a great team and, especially in difficult situations, I get to experience the great Emmi spirit. Because everyone pulls together.' She is open to new possibilities and can also imagine switching her area of work within Emmi at some point. 'When I get into something, I do it with a passion.'