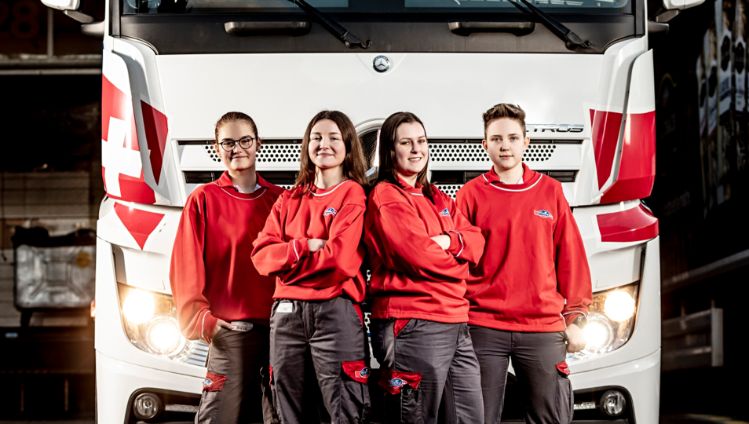 #People - 2 February 2020
Four at once
In Ostermundigen, four young women are training to become road transport specialists – a remarkable state of affairs. For one thing there is a general lack of new recruits, and then the profession has long been seen as a male bastion. That hardly bothers the trainees – as far as they're concerned, they've found 'the right career, no question'.
For the interview they're in the conference room in the logistics department in Ostermundigen. The four apprentices don't appear completely comfortable. They'd much rather be on the road, with 40 tonnes in tow.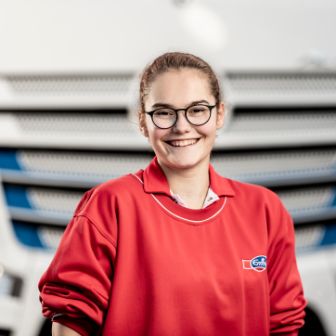 Eleonora (18)
'The driving, being king of the road – that was what drew me from the very beginning,' says 18-year-old Eleonora, who is in her second year of training.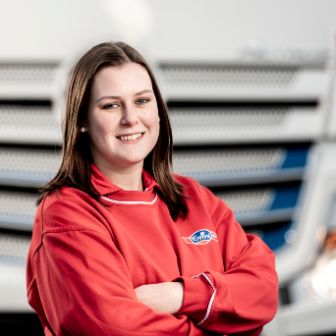 Kerstin (20)
20-year old Kerstin initially tried working in a nursery, but quickly found that childcare was not the right career for her. At some point she discovered that she could train to become a lorry driver. 'That appealed to me.'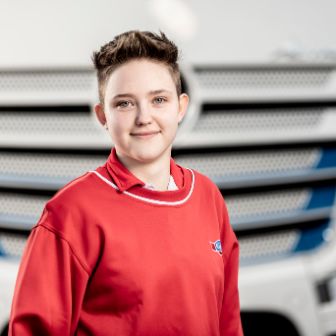 Leandra (17)
And 17-year-old Leandra explains that, unlike the boys who liked Lamborghinis and Ferraris, she was always interested in trucks.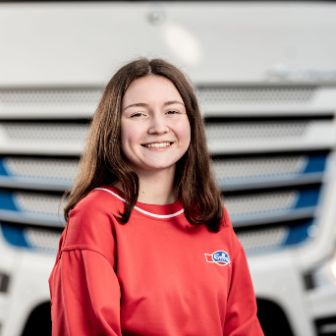 Leonie (16)
The fourth member of the group, Leonie (16) is currently in her first year of training along with Kerstin, while the other two are in their second year.
Behind the steering wheel
At the beginning of the course they spend relatively little time actually on the road. Much to the regret of the four trainees. 'I'm looking forward to getting behind the steering wheel myself,' says Leonie.
Eleonora speaks with pride of the 60 to 70 hours she has already clocked up on the road with her learner's licence. 'It just feels good and you know that you've chosen the right career, no question.'
The others nod.
'Women are more skilful drivers'
In the first year of training, the apprentices work in loading, scheduling, commissioning and in an external truck garage. Every now and then they are allowed to tag along on the road. At the age of 17 they begin driving lessons, and at 18 they are already carrying out transport jobs independently. 'We have quite a lot of responsibility,' says Eleonora.
Driving backwards with a trailer, for example, is something you just have to learn. As women they are more skilful anyway, they say, and laugh. In general they find the idea of driving as a man's job to be outdated.
'I think women drive more carefully and with more sensitivity,' says Leonie. Emmi Switzerland has 95 drivers on its books, with seven currently in training.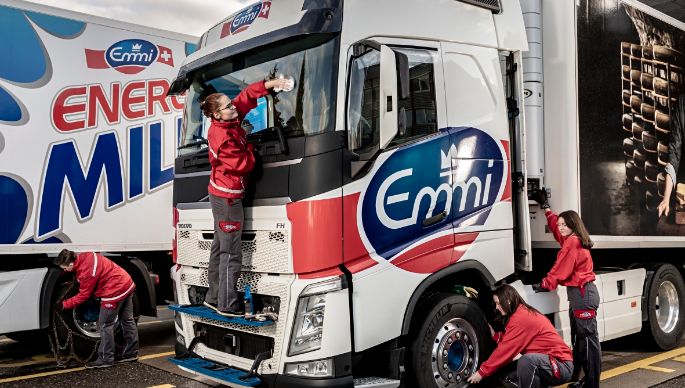 As well as the four in Ostermundigen, three are being trained in Emmen. And it's no coincidence that four women are pursuing this career.
When it came to finding apprentices, Pascal Flühmann, Head of Scheduling and Transport in Ostermundigen and responsible for the trainees, deliberately approached young women as well. 'It's good that we've been able to get young people enthusiastic about this demanding career. And it's great that we now have four women training with us at the same time.'