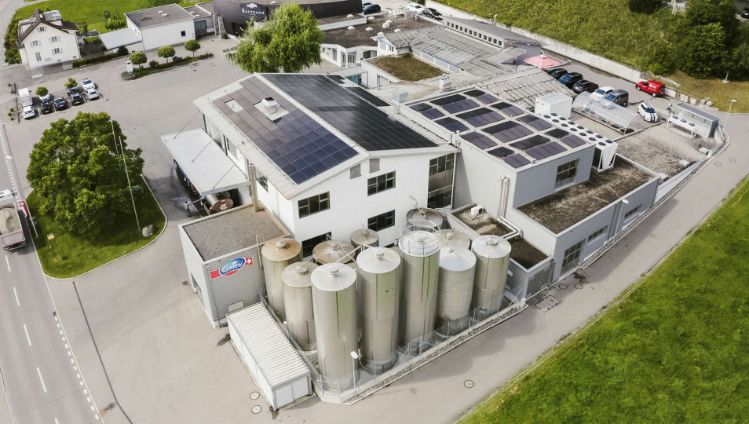 Lucerne, 26 October 2021
Kaltbach's "AOP eco-cheese" network in operation
Emmi is now using solar energy in the production of its cave-aged Kaltbach cheese specialities as part of a local "AOP eco-cheese" network, from farm to production to cave-ageing. At its heart is a new photovoltaic system on the production building in Kaltbach. This completes the solar-powered production of Emmentaler AOP in the Schlierbach cheese dairy, where the local milk suppliers also rely increasingly on solar energy. Alternative energy sources are an important element for Emmi in order to reduce its CO2 emissions by 60% by 2027 and achieve "netZERO" by 2050.
As part of its "netZERO" 2050 vision, Emmi has set itself the intermediate goal of reducing its CO2 emissions by 60% by 2027. To achieve this, the milk processor will increase the energy efficiency of its production facilities, use more renewable energy sources and gradually expand its capacity for in-house production of green energy.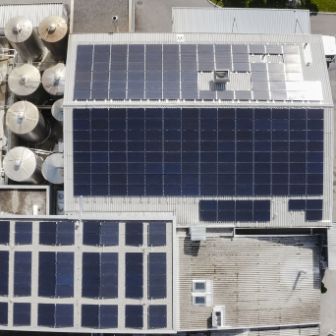 Cave and sun-aged Emmentaler AOP
Several of Emmi's buildings and its subsidiaries in Switzerland and abroad have already been equipped with photovoltaic or solar thermal energy systems. At Switzerland's largest production site in Emmen, solar energy is used alongside the existing woodchip heating system. Further photovoltaic systems are in use at the Studer cheese dairy in Hefenhofen, the Biedermann dairy in Bischofszell, the "Fromagerie de Saignelégier" and the "Lataria Engiadinaisa" in Bever.
New photovoltaic systems are now in operation on the roofs of Emmi's Kaltbach site. In Kaltbach, exquisite Kaltbach AOP cheese is matured deep underground under natural conditions, at a constant temperature of 12.5°C and 94% humidity. Kaltbach is one of Emmi's core brands, with an export share of 70%.

"Climate protection and the reduction of greenhouse gases are an urgent obligation for a company such as Emmi with a long-term mindset, in order to preserve the unique nature of our cheese specialities for future generations. Our new photovoltaic system is an example of how we are taking responsibility for this task," explains Roland Ziswiler, Head of Operations at Emmi Kaltbach.
Partnerships offer potential
The photovoltaic plant in Kaltbach is at the heart of a local "AOP eco-cheese" network: the nearby Schlierbach cheese dairy, which matures some of its Emmentaler AOP in Kaltbach, uses solar energy, as do several of the dairy farmers who supply Schlierbach with milk, including Marcel Arnold from Bodenacherhof in Wikon. Emmi has been producing and sourcing solar energy from the roofs of the Schlierbach cheese dairy since the spring of this year. Bruno Arnold, President of the Schlierbach-Krumbach cheese cooperative, explains: "With our solar plant, we as an Emmi supplier are making an important contribution to sustainability and the achievement of the 'netZERO' 2050 vision." The example shows that holistic approaches are required that involve the milk suppliers, producers and innovative partners to ensure that future generations will also be able to experience the best dairy moments and to reduce CO2 emissions along the entire value chain.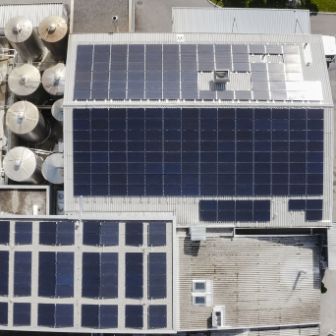 Investing in tomorrow, today
With a view to achieving its goal of CO2 neutrality by 2050, Emmi checks every building project in Switzerland to see if a photovoltaic plant is feasible, and the same applies to its existing buildings. The roof of the new cheese dairy in Emmen currently under construction will also be equipped with photovoltaic elements. They are expected to supply an additional 230,000 kWh of renewable electricity from 2023.
Due to low electricity prices, an in-house photovoltaic plant takes more than 15 years to pay off in economic terms. However, it helps the company to reduce its ecological footprint and, as an investment in the future, to achieve its goals.
Downloads and further information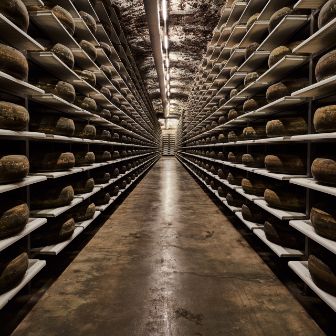 About the Kaltbach cave
Kaltbach stands for the best quality Swiss cheese specialities, refined by cave and master. In the natural sandstone cave in the Santenberg in the canton of Lucerne, the unique cave climate – with a constant temperature of 12.5°C and 94% humidity – and the careful attention of the cave-master turn the high quality Swiss cheese into cave-aged Kaltbach masterpieces. From the start of the 1950s, cheese was stored in a 50-metre tunnel cut into the sandstone rock. In 1956, the cave was expanded for the first time.

In 1993, Emmi acquired the cave and converted the site into a speciality cheese facility with natural cave-based ageing in the rock caves. In 1999, Le Gruyère AOP was matured in the cave for the first time. Up to 60 metres below ground, the cave today spans more than 2.3 km and has space for about 150,000 cheese wheels. The entire Kaltbach cheese family encompasses nine unique masterpieces; notably, Le Gruyère AOP Kaltbach, Kaltbach Emmentaler AOP and Kaltbach Appenzeller. These traditional Swiss cheeses are accompanied by Kaltbach Engadiner Bergkäse, Kaltbach Rahmkäse and Kaltbach Swiss Gouda, as well as the newest addition, Kaltbach goat's cheese. The cheeses from the Kaltbach cave are popular in Switzerland and abroad. Accordingly, about 70% of Kaltbach cheese is exported, predominantly to the US, Germany and the Netherlands.

The cave is open to visitors and can also be toured virtually.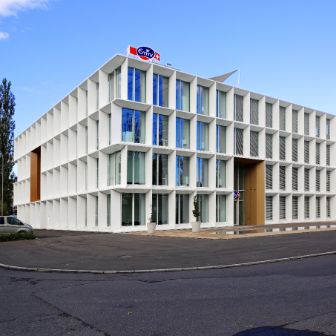 About Emmi
Emmi is the leading milk processor in Switzerland. The company dates back to 1907, when it was founded by 62 dairy farming cooperatives around Lucerne. Over the past 20 years, Emmi has grown into an international, listed group with a leading market position and strong brand concepts, such as Emmi Caffè Latte and Kaltbach cheese. It has for many years pursued a successful strategy based on three pillars: strengthening its Swiss domestic market, growth abroad and cost management. Throughout its corporate history, Emmi's keen awareness of its responsibility to society, animal welfare and the environment has been fundamental to its mission.

In Switzerland, Emmi manufactures a comprehensive range of dairy products for its own brands and private label products for customers, including leading exports such as Emmi Caffè Latte and Kaltbach. In other countries, its products – mainly speciality products – are manufactured locally. Alongside cow's milk, it also processes goat's and sheep's milk.

In Switzerland, the Emmi Group has 25 production sites. Abroad, Emmi and its subsidiaries have a presence in 14 countries, nine of which have production facilities. Emmi exports products from Switzerland to around 60 countries. Its business activities focus on the Swiss domestic market as well as western Europe and the American continent. Half of its CHF 3.7 billion in sales – over 10 % of which stems from organic products – is generated in Switzerland, the other half abroad. Almost two-thirds of its approx. 8,900 employees are currently based outside of Switzerland.