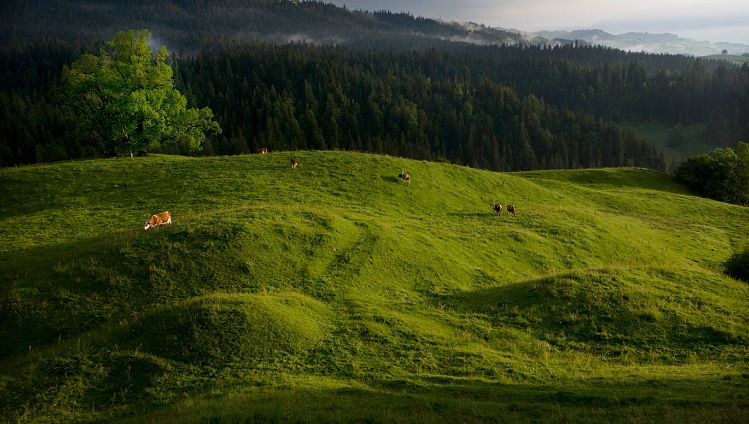 Lucerne, 23 february 2021
Emmi sets new sustainability targets and a netZERO 2050 vision
Emmi announces progress towards its sustainability goals and raises the bar with new targets including water usage reduction. Beyond further lowering its environmental im-pacts, Emmi is also expanding its goal to drive sustainable milk production and positive change in the global dairy eco-system. Further, Emmi is including new reduction targets across its entire value chain and turning to a science-based emissions reduction pathway with a netZERO 2050 vision. These commitments are evidence of Emmi's belief that long-term success is dependent on sustainable growth and collective action.
Emmi has shown good progress on its 2020 sustainability goals, with over 93% of Emmi's Swiss milk processed according to the swissmilk green standard, emissions cut by 24%* and waste by 10%**
Emmi has set new 2027 targets across 5 key areas: Sustainable milk, Employee develop-ment, Reducing emissions, Reducing waste, Reducing water use
Emmi is committing to set Science Based Targets (SBTi) for reducing greenhouse gas emis-sions across the value chain (Scopes 1, 2 & 3) while embracing a netZERO 2050 vision
*Provisional data vs baseline 2014
**Provisional data vs baseline 2017
Drawing on its legacy and based on its responsible business model, Emmi is stepping up and widening its sustainability efforts with new 2027 targets. To ensure future generations get to en-joy the goodness of dairy, Emmi is also embracing a netZERO 2050 vision in line with the goal of the 2015 UN Paris Agreement to limit global warming.
"Our long-term success is dependent on sustainable growth and a healthy planet. As an im-portant player in the dairy industry, we aim to positively influence our sector, balancing econo-mic, social and ecological aspects while stepping up our own sustainable practices. That's why we are setting ambitious new targets on sustainably sourced milk and emissions reductions all along our value chain while committing to Science Based Targets. Importantly, we are also turn-ing to a netZERO 2050 vision, helping us preserve the goodness of dairy for future generations while continuing to generate value in rural communities.", says Urs Riedener, CEO Emmi Group
Ambitious new 2027 sustainability targets
The new goals with horizon 2027 build on Emmi's existing sustainability focus areas while adding specific water reduction targets across its operations.
Sustainable Milk
100% of Emmi's global milk suppliers produce to an above-average local standard
Development of the Swiss Industry Standard
Developing Employees
100% of Emmi employees have a development plan in place
50% of all vacancies filled by internal candidates
Reducing Emissions
60% reduction of site GHG emissions (scope 1 & 2 – baseline 2014)
25% reduction of GHG emissions along the value chain (scope 3 – baseline 2019)
Vision netZERO 2050
Reducing Waste
100% recyclable packaging
50% reduction in rubbish and food waste
0 waste to landfills
Reducing Water use
50% reduction of own water use in risk areas
15% reduction of own water use in non-risk areas
Reduced water use in the value chain
Embracing Science Based Targets
In 2020, Emmi completed a thorough evaluation of its carbon footprint across the value chain to understand the size and scope of its emissions. To set new emissions reduction targets from production and sourced energy (scopes 1 and 2) to its broader value chain (scope 3), Emmi followed a rigorous science-based methodology in-line with the Greenhouse Gas Protocol and the Science Based Targets initiative (SBTi).

To reduce emissions, Emmi has extended the procurement of green electricity certificates to cover all its facilities worldwide since the beginning of 2021. In the coming years, further invest-ments will be made in energy efficiency, the switch to renewable heat sources and the on-site production of renewable electricity.

As over 90% of Emmi's carbon footprint originate outside the company's own operations with milk production being a key contributor, Emmi will amplify its engagement with dairy farmers, suppliers and other partners along its value chain to lower impacts.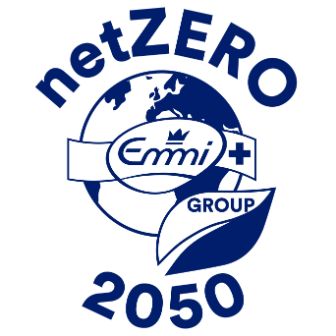 netZERO 2050 vision and collective action
Beyond its ambitious 2027 targets, Emmi is also embracing a netZERO 2050 vision as a com-mitment to support the 2015 UN Paris Agreement to limit global warming to well below two degrees Celsius.

To achieve net zero emissions by 2050, Emmi will work to reduce emissions along a set emissi-on reduction pathway while investing in removal technologies and partnering with pioneers and research institutions to access more forward-looking technologies.
"Our goal is clear – in order to prevent irreversible social and environmental damage of climate change, we must act now to reduce our emissions and reach our netZERO 2050 vision. While we don't have all the solutions and tools in place yet, we are confident to co-create the systemic change needed via collective action with our milk suppliers, partners and the scientific communi-ty as well as our consumers and customers."
Progress on Emmi's 2020 sustainability targets
Emmi has made good progress to deliver on its 2020 sustainability targets with 93% of the Swiss cow's milk Emmi processed being produced according to the swissmilk green standard. Global GHG emissions have been cut by 24%* since 2014 and waste reduced by 10%*.

Emmi will report final and extensive information on its sustainability achievements in June 2021 as part of the Emmi Sustainability Progress Report 2020, in its 6th edition.

*Provisional data
Marketing cookies necessary
Please accept the relevant cookie category to view this content
Downloads and further information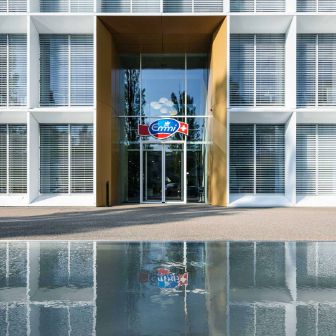 About Emmi
Emmi is a major Swiss milk processor. The company dates back to 1907, when it was founded by 62 dairy farming cooperatives around Lucerne. Over the past 20 years, Emmi has grown into an international, listed group. It has for many years pursued a successful strategy based on three pillars: strengthening its Swiss domestic market, international growth and cost management. Throughout its corporate history, Emmi's keen awareness of its responsibility to society, animal welfare and the environment has been fundamental to its mission.

In Switzerland, Emmi manufactures a comprehensive range of dairy products for its own brands and private label products for customers, including leading exports such as Emmi Caffè Latte and Kaltbach. In other countries, its products – mainly speciality products – are manufactured locally. Alongside cow's milk, it also processes goat's and sheep's milk.

In Switzerland, the Emmi Group has 25 production sites. Abroad, Emmi and its subsidiaries have a presence in 14 countries, eight of which have production facilities. Emmi exports products from Switzerland to around 60 countries. Its business activities focus on the Swiss domestic market as well as western Europe and the American continent. Half of its CHF 3.5 billion in sales – over 10 % of which stems from organic products – is generated in Switzerland, the other half abroad. Almost two-thirds of its more than 8,000 employees are currently based outside of Switzerland.