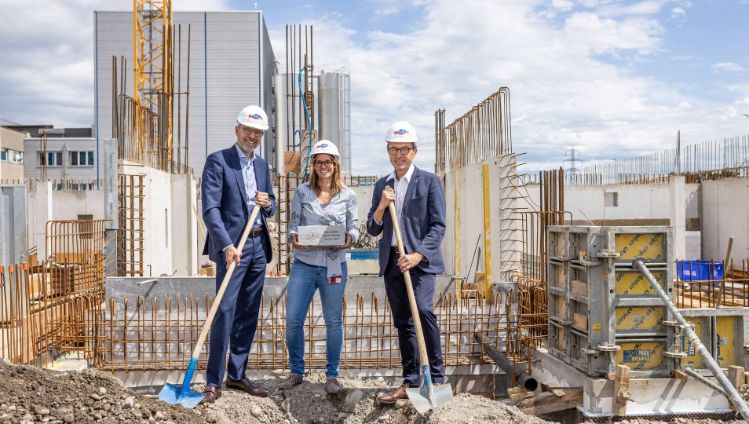 Lucerne, 24 June 2021
Foundation stone laid for new cheese dairy in Emmen
Emmi is investing CHF 50 million in a modern cheese dairy at its Emmen site. The laying of the foundation stone was officially celebrated today. In addition to representatives of Emmi and the project partners, Damian Müller, member of the Council of States, and Fabian Peter, member of the Lucerne cantonal government, were also present. The structural engineering work can now start. The new cheese dairy is scheduled to come on stream at the end of 2022.
In November, Emmi announced plans to invest CHF 50 million in the construction of a new cheese dairy at its traditional location in Emmen. This will replace the more than 40-year-old cheese dairy building, providing space for highly professional and resource-saving cheese pro-duction and creating additional capacities in line with the company's long-term growth plans.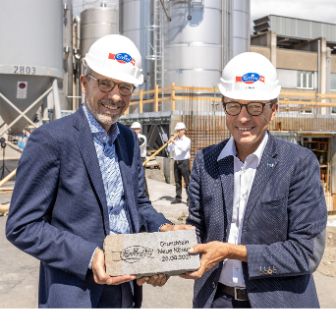 The foundation has been laid
Immediately after receiving the building permit, work began on site in mid-November 2020. Since then, a new parking lot has been built so that civil engineering works can begin on where the lorry park stood. Ground was broken in January 2021. The excavation and drilling of around 150 piles was completed in May. With the foundation works complete, the salt water tanks relocated and new external tanks installed, the building work can now begin. The laying of the foun-dation stone marked the ceremonial start of this new project phase today.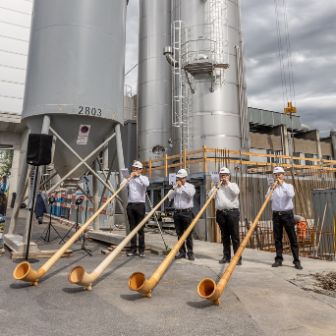 Huge importance for Emmi and the region
Costing CHF 50 million, the construction of the new cheese dairy in Emmen is one of the most significant investment projects in Emmi's history. It is a commitment to Switzerland as a business location in general and to Central Switzerland in particular. "With regional milk from Central Switzerland, we will be able to produce even more high-quality cheese, such as our Lucerne cream cheese, for the whole world," says Marc Heim, Deputy CEO of Emmi and Head of the Switzerland division.
Generating added value in the region, positioning Central Switzerland as an attractive place to work and providing agriculture with a long-term outlook is also one of the major concerns of the region's political decision-makers. Damian Müller, member of the Lucerne Council of States from Hitzkirch explains: "I'm confident the Swiss cheese industry, like its forebears in the 16th century, will develop ideas and alternatives so that the success story of Swiss cheese can continue to be written." Lucerne councillor Fabian Peter adds: "Emmi's investments are evidence of a great deal of confidence in the regional economy and in the canton of Lucerne as a location. As an important employer, it also serves as a role model in many respects. We are proud to have Emmi in our region."
Marketing cookies necessary
Please accept the relevant cookie category to view this content
On-streaming at the end of 2022 is realistic
Now that the foundation stone has been laid, construction work on the base plate and the erec-tion of the walls can continue. The actual cheese dairy building is set to be completed by the end of the year. On-streaming – initially operating in parallel with the current cheese dairy – is still planned for the end of 2022.
Downloads and further information
Contacts
Emmi Group Communications | Sibylle Umiker, Head of Media Relations | media@emmi.com | +41 (0)58 227 50 66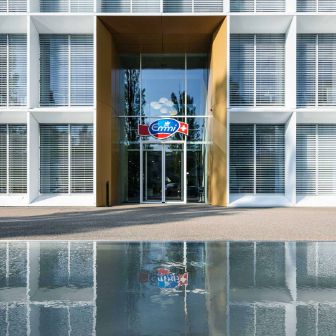 About Emmi
Emmi is a major Swiss milk processor. The company dates back to 1907, when it was founded by 62 dairy farming cooperatives around Lucerne. Over the past 20 years, Emmi has grown into an international, listed group. It has for many years pursued a successful strategy based on three pillars: strengthening its Swiss domestic market, international growth and cost management. Throughout its corporate history, Emmi's keen awareness of its responsibility to society, animal welfare and the environment has been fundamental to its mission.

In Switzerland, Emmi manufactures a comprehensive range of dairy products for its own brands and private label products for customers, including leading exports such as Emmi Caffè Latte and Kaltbach. In other countries, its products – mainly speciality products – are manufactured locally. Alongside cow's milk, it also processes goat's and sheep's milk.

In Switzerland, the Emmi Group has 25 production sites. Abroad, Emmi and its subsidiaries have a presence in 14 countries, 8 of which have production facilities. Emmi exports products from Switzerland to around 60 countries. Its business activities focus on the Swiss domestic market as well as western Europe and the American continent. Roughly half of its CHF 3.7 billion in sales – about 10 % of which stems from organic products – is generated in Switzerland, the other half abroad. Over two-thirds of its almost 8,700 employees are now currently based outside of Switzerland.