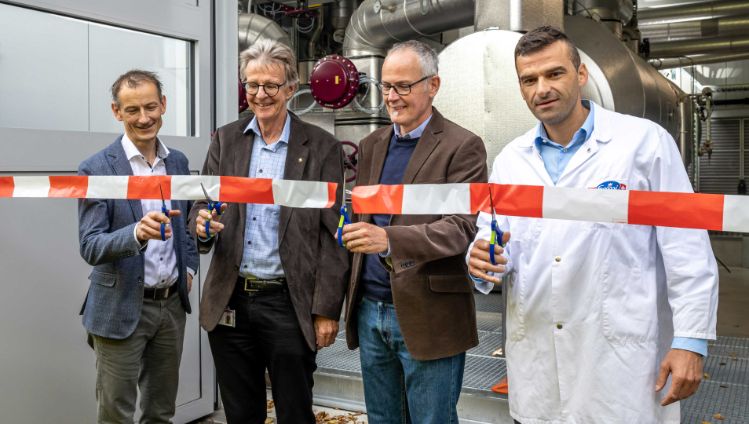 Lucerne, 21 October 2021
Emmi opts for environmentally friendly district heating in Suhr
Emmi is switching to district heating at its third-largest Swiss production site in Suhr, leading to a reduction in CO2 emissions of more than 5,000 tonnes per year. The switch to a resource-efficient energy supply is a milestone on the way to reducing Group-wide greenhouse gas emissions by 60 percent by 2027, and at the same time will allow the municipality of Suhr to supply additional residential areas with more environmentally friendly district heating. After a planning and implementation period of about five years, the connection to the district heating network of Fernwärme Wynenfeld AG (FEWAG) was officially completed yesterday in the presence of the project partners and representatives of the municipality.
Emmi is pursuing ambitious and broadly defined sustainability goals combined with the ambition to care for the best dairy moments for generations to come. Based on a netZERO 2050 vision, the internationally active and leading Swiss milk processor has committed to reducing Group-wide greenhouse gas emissions by 60 percent by 2027. To achieve this, Emmi is strengthening its focus on increasing energy efficiency in its operations and on renewable energy sources such as solar energy, woodchips and district heating.
District heating for Emmi Suhr
Against this backdrop, the connection to the district heating network of Fernwärme Wynenfeld AG (FEWAG) was completed yesterday after more than five years of planning and implementation at Emmi's production site in Suhr, where the vegan Beleaf brand drinks and the lactose-free Emmi Goodday range are produced, among others. Various representatives of Emmi and of the municipality of Suhr were present, as well as project partner FEWAG.
"At Emmi Suhr, we opted for environmentally friendly district heating from FEWAG because it enables us to reduce CO2 emissions by more than 5,000 tonnes per year, meaning that we can operate our energy-intensive production processes in a more environmentally friendly and sustainable way", explains Emmi project manager, Hansjörg Bernet.

The region benefits too
To connect Emmi Suhr to the FEWAG network, the steam pipeline had to be extended by a good two kilometres, and a new hot water pipeline was laid at the same time. Rolf Schumacher, Managing Director of FEWAG, explains the challenges involved: "Implementing the project was time-consuming and ambitious, but extending the pipe route in the urban environment worked out well overall. But there were also a few surprises during construction of the pipeline. That's why the construction work took three months longer than originally planned when the project was commissioned."
Despite the time and effort involved, the investment in the FEWAG network is worthwhile for all concerned. The people of Suhr will also benefit. "The extended high-temperature water pipeline means that we will be able to supply several additional residential areas with environmentally friendly district heating in future," says Marco Genoni, mayor of the municipality of Suhr.
District heating from the waste incineration plant (KVA) – how it works
District heating is characterised above all by the fact that the heat is delivered directly and ready for use in the building itself, and creates less CO2 than conventional heating systems.
The production of district heating involves a complex, self-contained process: When waste in the waste incineration plant is incinerated, heat is generated. Live steam is then produced from this heat. This in turn is fed into a steam turbine. Part of this is used for electricity production; while another part is routed as process steam for district heating and fed directly into the district heating network of Emmi Suhr, among others. Once it arrives at Emmi Suhr, the process steam enters the conditioning station, where finally steam is generated for the production process. Energy is also extracted from the turbine to provide hot water for existing or new comfort heating consumers.
Downloads and further information
About Emmi Suhr
The company that is now Emmi Suhr was founded in 1917 as "Butterzentrale Suhr" and was fully acquired by Emmi in 2017. With around 390 employees, Suhr is Emmi's third-largest production site in Switzerland. In addition to milk, cream and butter, it also produces the "beleaf" vegan brand drinks and the "Emmi Goodday" lactose-free range.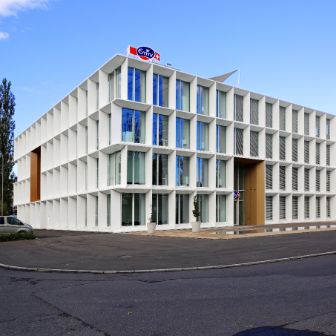 About Emmi
Emmi is the leading milk processor in Switzerland. The company dates back to 1907, when it was founded by 62 dairy farming cooperatives around Lucerne. Over the past 20 years, Emmi has grown into an international, listed group. It has for many years pursued a successful strategy based on three pillars: strengthening its Swiss domestic market, international growth and cost management. Throughout its corporate history, Emmi's keen awareness of its responsibility to society, animal welfare and the environment has been fundamental to its mission.

In Switzerland, Emmi manufactures a comprehensive range of dairy products for its own brands and private label products for customers, including leading exports such as Emmi Caffè Latte and Kaltbach. In other countries, its products – mainly speciality products – are manufactured locally. Alongside cow's milk, it also processes goat's and sheep's milk.

In Switzerland, the Emmi Group has 25 production sites. Abroad, Emmi and its subsidiaries have a presence in 14 countries, eight of which have production facilities. Emmi exports products from Switzerland to around 60 countries. Its business activities focus on the Swiss domestic market as well as western Europe and the American continent. Roughly half of its CHF 3.7 billion in sales – about 10 % of which stems from organic products – is generated in Switzerland, the other half abroad and over two-thirds of its around 8,900 employees are based outside of Switzerland.