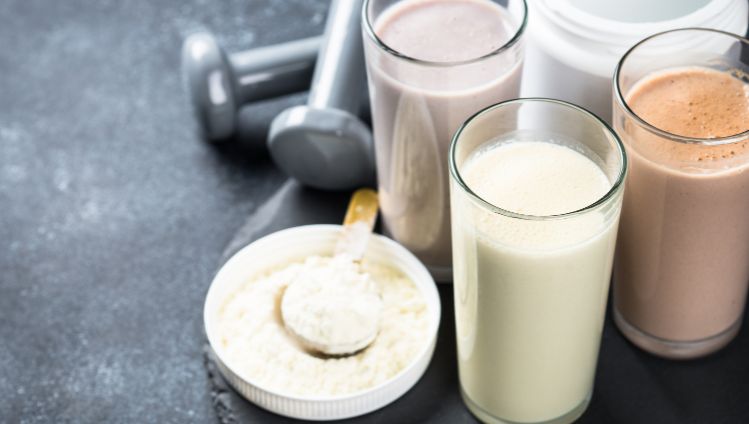 Lucerne, 19 May 2020
Emmi further expands its high-protein range
Protein-rich foods are all the rage. Emmi ENERGY MILK High Protein products are therefore experiencing a boom in popularity. Emmi is innovating on three fronts at once: a new drink containing high-quality whey proteins, a high-protein variant of Emmi Caffè Latte, and a protein drink developed in collaboration with the Swiss sports nutrition specialist Sponser Sport Food. Two needs are central to all products: physical health and great taste.
"Because I play a lot of sport, my body needs a lot of protein. I'd like to take this in the form of food, not as powder or pills."
This response from a consumer survey gets right to the heart of the matter: more and more people are eating a body-conscious diet and want to support their active, sporty lifestyle with protein-rich foods. But they want these foods to taste great as well.
With Emmi ENERGY MILK High Protein, YoQua or Porridge High Protein, Emmi already has a wide range of protein-rich products on the market. Three new products have now been added which ideally meet the growing need for protein-enriched nutrition while still delivering maximum flavour.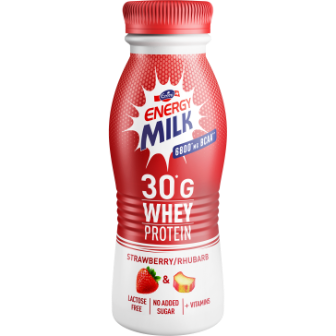 Emmi ENERGY MILK now also with whey protein
Emmi ENERGY MILK High Protein Whey is based on whey protein, a source of protein with a high biological value that is readily absorbed by the body. Consumers who engage in high-intensity sports prefer whey proteins. There are two different proteins in milk: casein and whey proteins. With its Emmi ENERGY MILK Whey Protein Drinks, Emmi is launching a new drink containing 30g of whey protein per bottle. The new product is available in the flavours choco-hazelnut and strawberry-rhubarb.

The Whey Protein Drinks go well with breakfast or as a refreshing snack in between, and are also ideal for those who are working hard to build muscle. Despite their targeted effect, no compromises are made on taste. What's more, the drinks are lactose-free, contain no added sugar, but are enriched with valuable vitamins. The two new varieties will be added to the Emmi ENERGY MILK High Protein range from 18 May.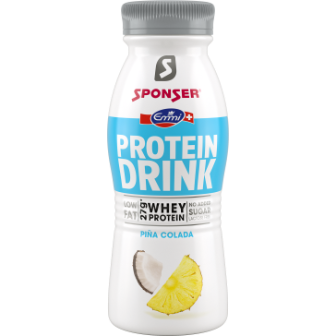 Emmi and Sponser: great taste meets functionality
Both top athletes and ambitious amateur sportsmen and women rely on an extra portion of protein after sport. For most products, the main focus is on functionality. But the new functional protein drinks from the two Swiss companies Sponser Sport Food and Emmi are different: not only do they contain 27 grams of protein per serving, they also taste great. The products are lactose-free and contain no added sugar. Another plus is that they can be stored out of the refrigerator. The drinks come in three flavours: Strawberry-cranberry, piña colada (both whey) and vanilla with milk protein.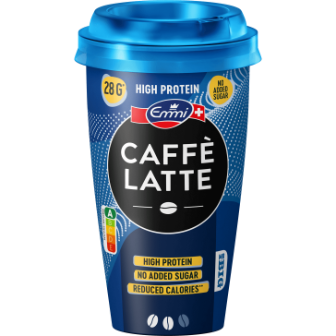 Sporty coffee pleasure with no added sugar
Emmi Caffè Latte Protein Mr. Big turns the morning cup of coffee into a welcome energy kick to see you through the whole day. With 28 grams of protein and gently roasted Arabica coffee, it is the perfect pick-me-up for health-conscious consumers. The tasty drink is also lactose-free and has no added sugar. Emmi Caffè Latte Protein Mr. Big extends the broad range offered by the successful Emmi brand and meets the growing need for high-protein nutrition.

Download material and further information
Contact
Media: Emmi Corporate Communications & IR, Sibylle Umiker, Head of Media Relations | T +41 58 227 50 66 | media@emmi.com
About Sponser
SPONSER SPORT FOOD AG is the leading Swiss-based sports nutrition company. Founded over 30 years ago, the company, located on the left bank of Lake Zurich, has evolved into a well-recognised and respected SME on the sporting scene and today supplies over 40 countries with high-quality sports nutrition products.
The comprehensive product portfolio includes high-quality and functional products for top athletes as well as for performance-oriented amateur athletes and health-conscious sportsmen and women. Sponser's core competence includes protein-rich products for building and maintaining muscle mass as well as high-quality products for endurance athletes. Products from the Figure&Shape and Health&Vitality segments round off the portfolio.
As the nutritional partner of world-class athletes such as Nino Schurter and Nicola Spirig, SPONSER is committed to high-quality products and competence in top-class sport. In addition, SPONSER delivers energy and power to popular sports as a catering partner for more than 200 events annually.
About Emmi
Emmi is a major Swiss milk processor. The company dates back to 1907, when it was founded by 62 dairy farming cooperatives around Lucerne. Over the past 20 years, Emmi has grown into an international, listed group. It has for many years pursued a successful strategy based on three pillars: strengthening its Swiss domestic market, international growth and rigorous cost management. Throughout its corporate history, Emmi's keen awareness of its responsibility to society, animal welfare and the environment has been fundamental to its mission.
In Switzerland, Emmi manufactures a comprehensive range of dairy products for its own brands and private label products for customers, including leading exports such as Emmi Caffè Latte and Kaltbach. In other countries, its products – mainly speciality products – are manufactured locally. Alongside cow's milk, it also processes goat's and sheep's milk.
In Switzerland, the Emmi Group has 25 production sites. Abroad, Emmi and its subsidiaries have a presence in 14 countries, eight of which have production facilities. Emmi exports products from Switzerland to around 60 countries. Its business activities focus on the Swiss domestic market as well as western Europe and the American continent. Half of its CHF 3.5 billion in sales – over 10 % of which stems from organic products – is generated in Switzerland, the other half abroad. Almost two-thirds of its more than 8,000 employees are currently based outside of Switzerland.