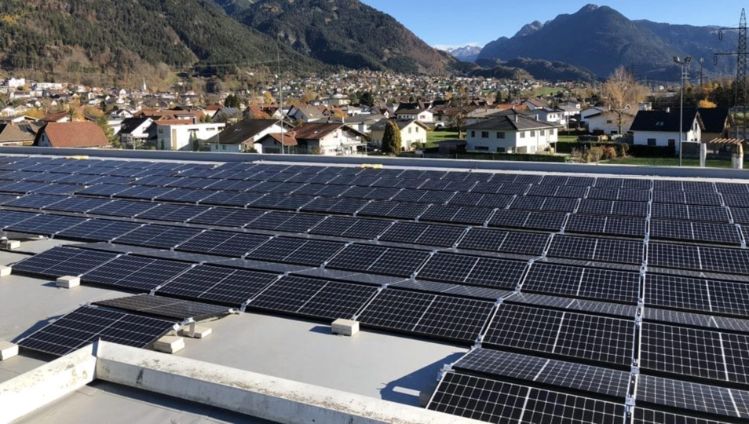 10 January 2019 - #Sustainability #Planet
Here comes the sun!
Some 500 collectors are now installed on the roof of Emmi Austria in Nüziders. Across a surface area of 900 m2, they generate around 160,000 kilowatt hours of electricity a year – electricity that was previously sourced from the local grid. This measure can reduce annual CO2 emissions by a good 15 tonnes of CO2.
Replacing fossil fuels with renewable energy sources is a key factor in reducing greenhouse gas emissions. For us, however, it is just one part of our climate protection efforts. Our goal is to comprehensively optimise the energy consumption of our production sites.

Ideally, everything starts with a professional energy analysis. As was the case at Emmi Austria in Nüziders, where we obtained expert advice from a registered energy auditor at the Energie-Institut Land Vorarlberg. In a comprehensive energy consultancy report, the expert identified no fewer than 35 energy-related areas in which action needed to be taken. Some of the suggestions – such as ceiling insulation in the technical room to minimise heat radiation into the air-conditioned production area – have already been implemented.
Marketing cookies necessary
Please accept the relevant cookie category to view this content
The difficult question of economic viability
The recommendations also included using renewable energy sources. Since production buildings tend to have a large surface area, photovoltaic systems seem like an obvious solution. However, they are often not sufficiently economically viable for companies. In this case, the fact that the roof was due for renovation anyway together with the available government subsidies positively impacted our calculations. Assuming constant energy costs, Emmi's EUR 150,000 investment should pay for itself within twelve years.
"Our photovoltaic system protects us from rising energy prices."
The photovoltaic system, which was put into operation in October 2018, covers an area of 900 m2 on the roof of Emmi Austria. It produces around 160,000 kilowatt hours of electricity per year, which represents the annual energy consumption of around 35 households in the Vorarlberg region of Austria. The energy produced is consumed almost entirely by Emmi Austria and covers around 20 % of its electricity requirements. It replaces electricity previously drawn from the local grid. Two-thirds of Vorarlberg's electricity is generated from hydropower, 15 % from natural gas and 10 % from wind energy. The CO2 emissions caused by this energy mix amount to 96 g/kWh. Switching to solar power reduces Emmi Austria's CO2 emissions by 15 tonnes a year.

> Website Emmi Austria (only in german)