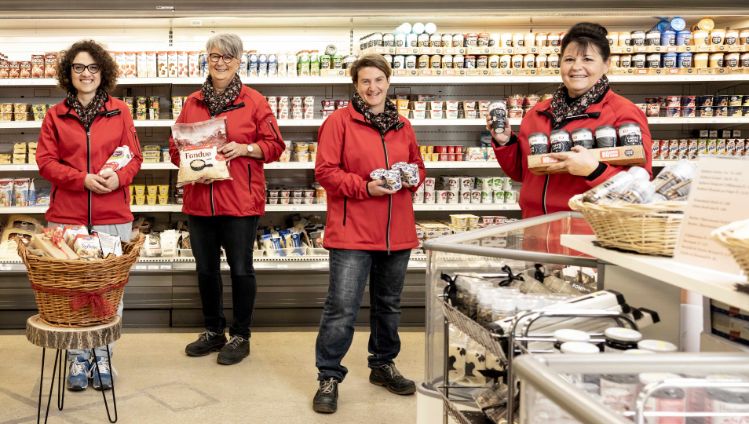 #People - 14 october 2022
Emmi Shop Emmen: great team, top products
A top tip for people who love top-quality dairy products: shop at the Emmi Shop Emmen to save money and help tackle food waste. You'll meet a dedicated team – manager Erika explains why her shop is so popular.
Our team consists of six people. We all live locally and are aged between 35 and 55. Some are housewives and moms who work part time. The team works wonderfully well together, and there's very little staff turnover. Our customers can tell, too. We always aim to offer them a warm welcome. An important part of the Emmi sustainability strategy is ensuring our employees feel content, valued and inspired. I think we manage that very well.
"Sometimes it's hectic, loud and you have to do a thousand things at once."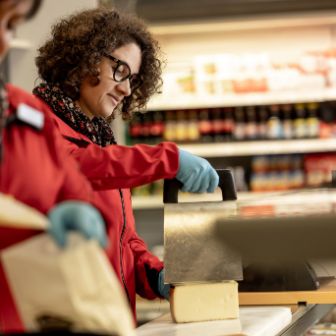 The shop opens at 9 am. Then our day-to-day work begins – working at the cash register, stacking shelves, serving at the cheese counter, answering the phone and so on. Our work is fun, but it isn't always easy. Sometimes it's hectic, loud and you have to do a thousand things at once.

On average, 260 to 360 people visit us each day. We've got all kinds of customers, from tradespeople to bankers. It's often people who are passing through and tourists who make a stop here because they like our products.
The shop has two parts: in the outlet section, we sell discounted goods that mostly come from surplus or have small defects, such as on the label. Sometimes a production site asks whether we can make use of this or that.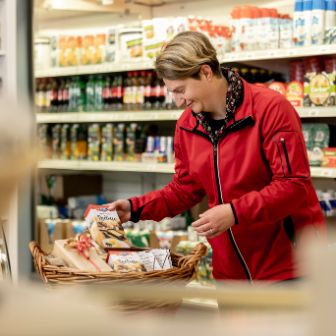 Out front, we've got a wide range of regular products: fondue, raclette, cheese, yogurt and much more. Since the end of last year, we've also had a range of local products available for sale. These come from one of our farmer ambassador Patrik Schmid – potatoes, jams and seasonal products such as apples, pears and pumpkins.

One of our goals is to become more local. It's great that the outlet allows us to do something to combat food waste. We're also involved in the "Too good to go" project.