#Brands - 9 December 2019
"Alles in Butter?" – Everything good?
Christmastime is cookie time – which means butter time: Despite the fitness and health trend, many people cannot do without butter on their bread or in their baked goods. And they are right, because butter is an "honest" product with a taste that is simply unique. In praise of butter.
Now a lot of people are really getting going again. Even those who usually never reach for a cookbook find themselves trying to bake really tasty Christmas cookies. "Mailänderli", "Spitzbuben", "Vanillekipferl" and cookies with all kinds of names have one thing in common: there's plenty of butter in all of them.
But why? Wouldn't vegetable oil work, too? This question makes Daniel Peters smile. He is Head of Development at Emmi's Suhr site, where around 20,000 tonnes of butter are produced every year. "Butter has a distinctive taste that comes across beautifully in a croissant." Its slightly acidic flavour is unique and has been an integral part of our sensory experience for centuries in this region of the world.
Lots of milk in the butter
Butter is made from milk, and it takes quite a lot of that: one kilogram of butter requires 21 litres of cow's milk. In a centrifuge, the milk is separated into skimmed milk and cream, and the latter is pasteurised. Lactic acid bacteria are added to the cream and acidified to the desired pH.
In the butter-making machine, the cream is whipped by very fast rotating blades. The high mechanical pressure causes the fat in the cream to combine into "butter grains". What remains is butter milk, which is separated. In a further step, the butter grains are kneaded into butter, which can be shaped and packaged.
Daniel Peters adds: "The making of butter is an absolutely honest process. And butter is a purely natural product." Good butter is obtained when the milk is of the highest quality and a good bacterial culture is present. The organic-chemical compound diacetyl, which is formed during acidification, is primarily responsible for the special taste.
An invaluable food
It's incredibly easy to make your own butter at home. "Beat the cream with a whisk until there is some kind of grain," says the butter expert. Sieve the buttermilk and reuse it. Put the remaining butter grains in a bowl with ice water and knead. And the butter is ready.
"Alles in Butter" (everything is good) – where does this German-language saying actually come from? According to the Internet portal on proverbs and phrases "Sprichwörter & Redewendungen", it dates back to the Middle Ages. When transporting expensive glasses over the Alps, merchants placed them in a tub of hot butter that solidified as it cooled. This protected the precious goods from being damaged. "Alles in Butter", everything is good. Just as good as all the stuff you can make with butter. For example, delicious cookies. Here are a few especially tasty recipes. (Source: Swissmilk).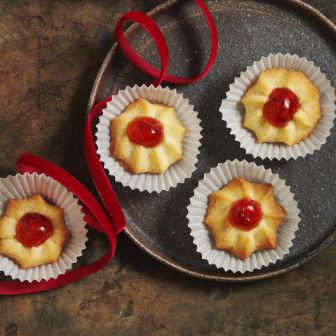 Butter cookies
Just like the name says: butter is the main ingredient here. For around 40 cookies you need 150 grams each of butter and sugar, a whisked egg, two tablespoons of amaretto, a little salt and 250 grams of flour.

And here's how you proceed: Stir the butter until it forms little peaks, then add everything except the flour and mix well. Then sieve in the flour and stir. Put the dough in a piping bag with a serrated nozzle and press the rosettes, about 3 cm in size, onto baking paper. For the decoration, press on the candied fruit and chill for 20 minutes. Bake for 12 to 15 minutes in a preheated oven at 170 degrees Celsius.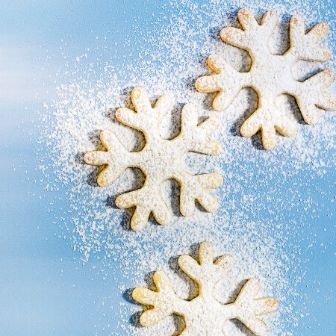 "Schneeflocke" (snowflake) vanilla cookies
Again, please don't count the calories: For around 65 cookies, you need 200 grams of soft butter and the same amount of icing sugar, a packet of vanilla sugar and a vanilla pod (with scraped pulp), 400 grams of flour, an egg and two egg yolks, half a teaspoon baking powder, a pinch each of cinnamon powder and salt, as well as icing sugar for dusting.
Stir the butter until peaks form, add the icing sugar, vanilla sugar and vanilla pulp, salt, egg and egg yolks, and stir until the mixture becomes pale. Now add the flour, baking powder and cinnamon with a sieve and mix until you have a dough. Chill for one hour.
Roll out the dough, about 5 millimetres thick, place on baking paper and chill for 15 minutes. Cut out shapes. (Our favourite: snowflakes.) Chill for another 15 minutes. Then bake for 9 to 10 minutes in a preheated oven at 200 degrees Celsius. Allow to cool on a wire rack and dust with the icing sugar.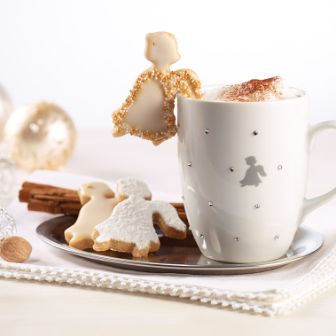 "Butter-Ängeli" (butter angels)
The third one is hearty: For around 80 butter angels, you need 250 grams each of butter and sugar, a quarter teaspoon each of ground cloves and nutmeg, two teaspoons of cinnamon, a pinch of salt, two eggs, and 500 grams of flour.
For the icing, you need 160 grams of icing sugar, two to three tablespoons of water and one tablespoon of lemon juice. For the red icing, add a little beetroot juice to the icing. Sugar pearls are pleasing to the eye.
Stir the butter well, then add everything except the flour and stir until foamy. Then sieve in the flour and mix until you have a dough. Press flat and chill for one to two hours wrapped in plastic film. On a little flour, roll out pieces 5 millimetres thick, then cut out the angels and place them on a baking tray covered with baking paper and bake for 12 minutes in a preheated oven at 200 degrees Celsius. Stir the ingredients for the icings until smooth, then brush over the cookies and add decorations.