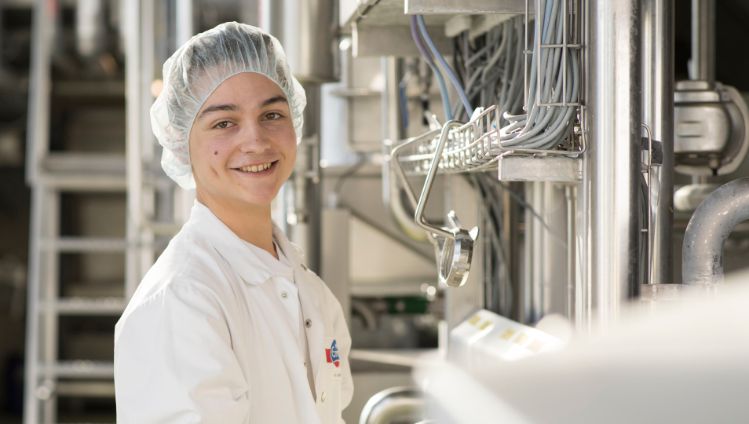 Lucerne, 2 July 2020
Emmi creates additional apprenticeships in Switzerland
Against the backdrop of the difficult apprenticeship situation in Switzerland caused by coronavirus, Emmi is offering young people additional prospects. The milk processor is creating additional training places and also offering an apprenticeship to those young people facing the threat of job losses as a result of the corona crisis. In addition, apprenticeship graduates who perform well and exhibit good conduct will be offered at least a temporary position after completing their training at Emmi.
In the context of the current pandemic, apprenticeship positions are also at risk and apprenticeship graduates are stating they are having increasing difficulty in finding a job. For this reason, the Swiss government set up a task force in May 2020 to strengthen apprenticeships (WBF media release).
"Given the current situation especially, we believe it is our responsibility to help mitigate the situation facing apprentices in Switzerland with various measures," says Marc Heim, Executive Vice President Switzerland, outlining Emmi's intentions. With around 3,000 employees and 118 apprenticeships nationwide, Emmi is a major employer in Switzerland.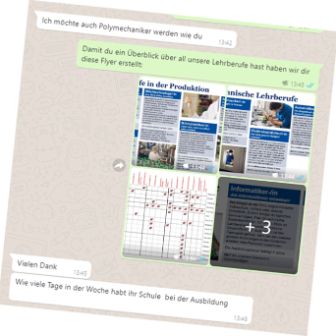 Impact at all levels
The coronavirus crisis is affecting young people at different stages of their training. The 13- and 15-year-olds would normally be in the middle of their trial apprenticeship, which would have started in the spring, and would be getting to know different industries and companies. To give people the opportunity to find the right job in spite of the current situation, Emmi has been holding WhatsApp taster afternoons. The offering has been warmly welcomed by the young people involved, and so far various taster afternoons have been held via this virtual route.
At the same time, the difficult economic situation of many companies is leading to fewer apprenticeship spots, the termination of apprenticeship contracts and a lack of openings for apprenticeship graduates. For this reason, Emmi is already offering additional apprenticeships starting from the summer 2020 intake, as well as for the coming year. The number of apprenticeship spots can be increased by up to ten, depending on requirements.
Emmi is also in a position to take on computer scientists, laboratory technicians, logisticians, milk technologists, polymechanics and road haulage specialists who are currently undergoing training and whose training relationship has had to be terminated due to coronavirus.
Prospects after training
Many apprenticeship graduates only know shortly before they graduate whether they have a professional future at their training company. Not only does this increase the risk that they won't have a job after the apprenticeship, but also creates a great deal of uncertainty, something that is especially destabilising during the training process.
This is why Emmi already committed itself back in 2014 to employing its apprentices for at least six months on the condition that they complete their training and exhibit good conduct. This not only gives them security; it also enables young people to gain further valuable professional experience. Alternatively, apprenticeship graduates can apply to Emmi for the international programme "Young Professionals".
Win-win situation
With the measures described above, Emmi is helping to reduce the impact of the coronavirus crisis on young people who are undergoing training. For Emmi, however, this also provides an opportunity to draw attention to interesting careers in the food industry. This is especially important after demographic changes and the increasing popularity of academic training have made the search for suitable trainees more and more difficult in recent years. The difficult situation we're currently in therefore also represents an opportunity.
Additional information on current apprenticeships at Emmi
of which milk technologists EFZ (federally certified) / milk practician EBA (federally vocationally certified): 12
of which plant managers EFZ/ EBA: 4
of which logisticians EFZ/EBA: 7
of which polytechnicians EFZ: 2
of which road haulage specialists EFZ: 1
of which commercial specialists EFZ: 3
of which IT specialists EFZ: 1
of which milk technologists EFZ / milk practicians EBA: 14
of which plant managers EFZ/ EBA: 7
of which logisticians EFZ/EBA: 8
of which polytechnicians EFZ: 2
of which road haulage specialists EFZ: 3
of which commercial specialists EFZ: 3
of which IT specialists EFZ: 2
of which laboratory assistants EFZ: 1
of which retail specialists EFZ: 1
of which automation engineers EFZ: 1
of which ICT specialists EFZ: 1
Milk technologist EFZ: Dagmersellen and Kaltbach
Milk practician EBA: Dagmersellen
Polytechnician EFZ: Kirchberg
Ostermundigen: 36
Kirchberg: 11
Langnau: 3
Saignelégier: 1
Courgenay: 1
Frenkendorf: 1
Suhr: 19
Lucerne: 3
Emmen: 22
Kaltbach: 1
Landquart: 2
Dagmersellen: 12
Bever: 1
Stein: 1
Bischofszell: 4
Picture and video material as well as further information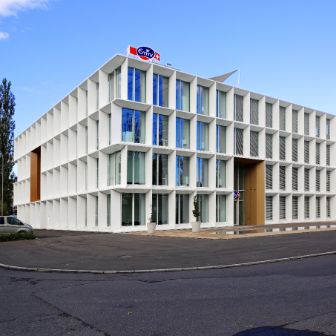 About Emmi
Emmi is a major Swiss milk processor. The company dates back to 1907, when it was founded by 62 dairy farming cooperatives around Lucerne. Over the past 20 years, Emmi has grown into an international, listed group. It has for many years pursued a successful strategy based on three pillars: strengthening its Swiss domestic market, international growth and rigorous cost management. Throughout its corporate history, Emmi's keen awareness of its responsibility to society, animal welfare and the environment has been fundamental to its mission.

In Switzerland, Emmi manufactures a comprehensive range of dairy products for its own brands and private label products for customers, including leading exports such as Emmi Caffè Latte and Kaltbach. In other countries, its products – mainly speciality products – are manufactured locally. Alongside cow's milk, it also processes goat's and sheep's milk.

In Switzerland, the Emmi Group has 25 production sites. Abroad, Emmi and its subsidiaries have a presence in 14 countries, eight of which have production facilities. Emmi exports products from Switzerland to around 60 countries. Its business activities focus on the Swiss domestic market as well as western Europe and the American continent. Half of its CHF 3.5 billion in sales – over 10 % of which stems from organic products – is generated in Switzerland, the other half abroad. Almost two-thirds of its more than 8,000 employees are currently based outside of Switzerland.