Lucerne, 11 March 2020
Emmi stands up to imported vegan products
The plant-based product line Beleaf with yogurt alternatives, drinks and shakes based on almonds or oats is Emmi's answer to the growing demand for vegan foods. Emmi's family of coffee drinks is also sprouting a vegan offshoot: Emmi Caffè Drink Almond Macchiato. The new products offer an alternative to imported milk substitutes.
More and more consumers are eating vegetarian or vegan food from time to time. This trend looks set to continue. In countries such as the US, it is already much more advanced. In response to this development, Emmi is launching its own vegan line under the brand Beleaf. The yogurt alternatives, drinks and shakes based on almonds or oats offer even more variety for all those who value a balanced diet.
The vegan version of Emmi's cold coffee drink is sure to be a hit with health conscious consumers everywhere: Emmi Caffè Drink Almond Macchiato combines the freshly brewed espresso people know and love with almond milk.
All products will be available in Swiss retail outlets from mid-March.

Detailed product information (in German)

No competition for domestic dairy products
Vegan is nothing new for Emmi. In Switzerland, it has been producing a variety of almond-, cashew- and lupin-based plant products for its trading partners since the 1990s. The majority stake in the Austrian organic company Hale has further underpinned this area.
With the launch of Beleaf and Emmi Caffè Drink Almond Macchiato, Emmi is consistently pursuing its strategy of positioning itself in niche markets at an early stage, while at the same time strengthening Switzerland as a business location: "The continuing trend towards a vegetarian or vegan diet makes it an economic necessity to get on board with this development," says Urs Riedener, CEO of Emmi. "Not only do we have the appropriate production facilities, but also a great deal of expertise in plant-based foods," Riedener continues.
With its plant-based brand products, Emmi is entering a segment of its home market that is currently heavily influenced by imported products. However, vegan milk substitutes are a market niche, and Emmi's core business is and remains dairy products.
"If consumers today reach for plant-based products from time to time, an Emmi product that offers uncompromisingly good taste should end up in their shopping trolley," explains Thomas Morf, Chief Marketing Officer at Emmi.
Further information and images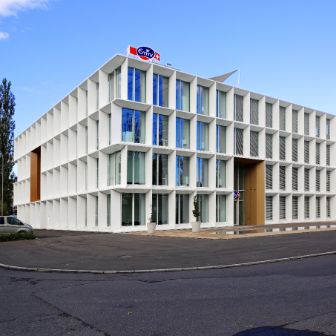 About Emmi
Emmi is a major Swiss milk processor. The company dates back to 1907, when it was founded by 62 dairy farming cooperatives around Lucerne. Over the past 20 years, Emmi has grown into an international, listed group. It has for many years pursued a successful strategy based on three pillars: strengthening its Swiss domestic market, international growth and rigorous cost management. Throughout its corporate history, Emmi's keen awareness of its responsibility to society, animal welfare and the environment has been fundamental to its mission.

In Switzerland, Emmi manufactures a comprehensive range of dairy products for its own brands and private label products for customers, including leading exports such as Emmi Caffè Latte and Kaltbach. In other countries, its products – mainly speciality products – are manufactured locally. Alongside cow's milk, it also processes goat's and sheep's milk.

In Switzerland, the Emmi Group has 25 production sites. Abroad, Emmi and its subsidiaries have a presence in 14 countries, seven of which have production facilities. Emmi exports products from Switzerland to around 60 countries. Its business activities focus on the Swiss domestic market as well as Western Europe and the American continent. Half of its CHF 3.5 billion in sales – over 10 % of which stems from organic products – is generated in Switzerland, the other half abroad. More than two-thirds of its over 7,800 employees now work at locations outside of Switzerland.