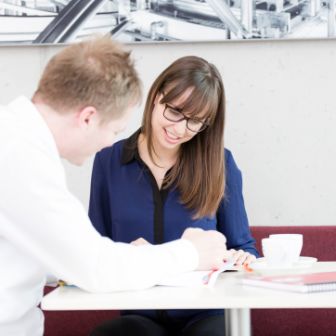 Proven HR processes
We were the first major food manufacturer in Switzerland to subject our HR processes to a regular, external, internationally recognised audit, which we have been doing since 2011. The inspection and certification company Société Générale de Surveillance SA (SGS) audits our HR processes in accordance with the principles of the non-profit organisation Sedex (Supplier Ethical Data Exchange). The objective of this audit is to identify further scope for improvement in the implementation of the Code of Conduct. To date, we have successfully passed all audits. Detailed information can be found in the Sustainability Report.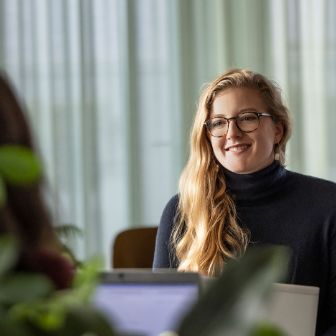 Working hour models
The 42-hour work week is still the norm, but a decreasing number of people find it to be ideal. In order to promote an optimal work-life balance, we support alternative working hour models wherever they are compatible with the company's needs. These can entail part-time solutions as well as Work@Home models, job sharing or other options.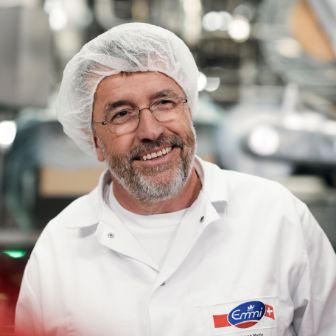 Corporate culture
We work in multiple locations in many different countries and our tasks are as diverse as we are. What unites us is our allegiance to Emmi and our corporate values.
We see a healthy corporate culture as one of the most important aspects of sustainable business management. Our work behaviour is therefore underpinned by our corporate values: our cooperation is shaped by respect, humanity and trust. We are proud to belong to Emmi and we identify with our products and services. We contribute to the sustainable development of the entire Group with individual responsibility, honesty and expertise.

We also facilitate dialogue and mutual understanding at various events. In this way, we promote collaboration across workplaces and divisions: sharing knowledge and shaping opinions at management meetings, working together in workshops, having fun and getting active at the service anniversary trip, or entertainment and information at employee events.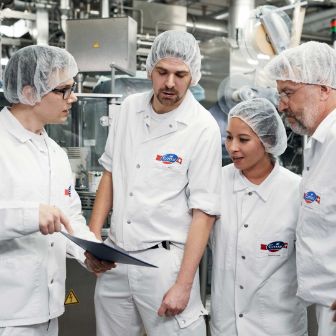 Leadership
Our management development is aimed at everyday life and is based on sound scientific findings. We know that diligent leadership makes a huge contribution to the well-being of employees at the workplace and, in turn, also to excellent performance.
This is why we consciously address the topic of leadership and are constantly improving in this regard. Thanks to a new leadership concept that we specially developed for Emmi with the Institute for Applied Psychology at the Swiss Federal Institute of Technology Zurich (IAP) we promote an understanding of how humans function, what their needs are and how they interact. Our managers examine specific leadership situations and develop options for interpreting and approaching them in a holistic manner.
"Corporate values ​​helped employees value each other and support each other. I also notice that I think more actively as a team leader."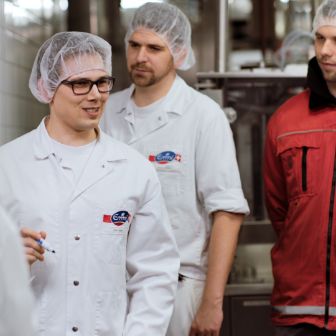 Health
Our occupational health management considers an employee's overall environment and is based on a positive human image. This approach is designed to improve working conditions and the way work is organised, promote active employee engagement and strengthen individual competencies. Accordingly, health management comprises various measures.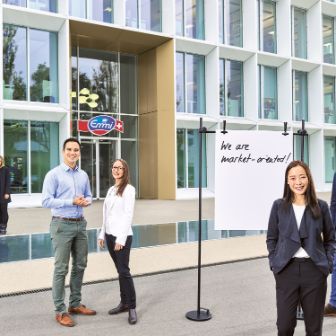 International exchange
As an international company with numerous locations in different countries, we promote international staff exchanges within the Emmi Group. This creates a win-win situation. Teams benefit from the knowledge and network of the employees who are transferred, while a stay abroad can teach the employees who are deployed great lessons for life.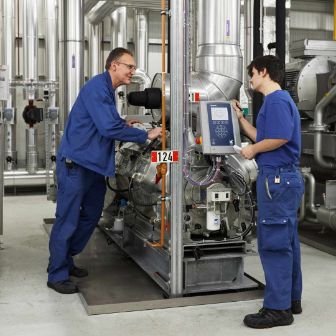 Development opportunities
At Emmi, making progress is a priority. This is underscored by our corporate value "We are continually developing". Thanks to challenging tasks and activities, we keep learning new things. We develop every day, usually right at our workplace.