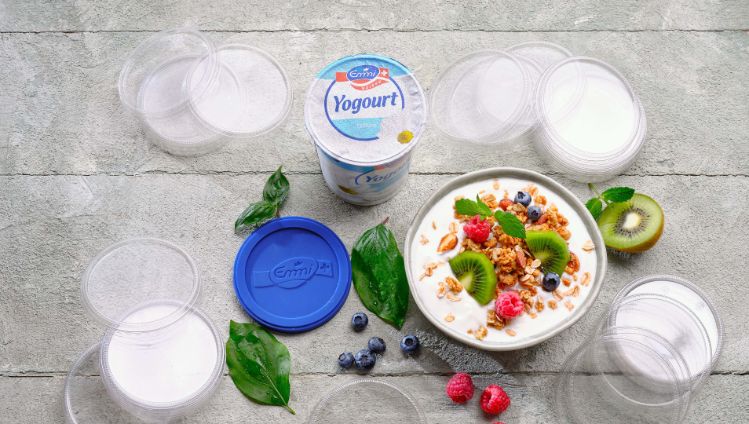 #sustainability - 17 September 2020
"Topless" for the environment
Emmi is removing the extra plastic lids on dairy products like cream and crème fraîche. This move will reduce the amount of plastic used by some 20 %, with a free, reusable alternative available to ensure the same product protection.
Some pots for dairy products like yoghurt and cream have a plastic lid on top of the aluminium seal to protect the contents during transport and in the refrigerator. Emmi uses nearly 4.3 million of these lids each year.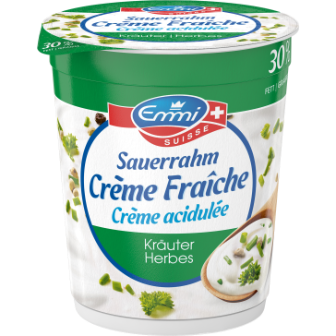 But there is another way
Emmi believes that these lids are a waste of precious resources and create unnecessary rubbish. The small 180g pots are usually eaten in one sitting and therefore do not need additional protection from air and odours in the refrigerator. And there are more sustainable alternatives for larger products like family-size yoghurts.

Since the beginning of August, Emmi has removed the extra lid on 180g pots of cream and crème fraîche, choosing instead to leave them "topless" in supermarket chiller cabinets. 400g to 500g pots followed suit from mid-September. To protect products from spoiling and off-odours, Emmi is offering reusable, resealable silicon lids free of charge.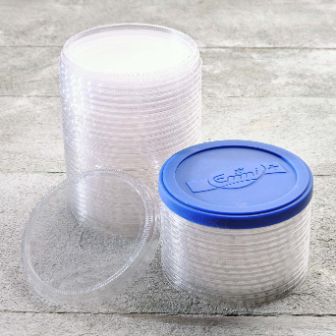 Cutting plastic waste
Stacked together, the 1.8 million lids of these small pots alone could form a mountain as high as Mont Blanc each year! But this is dwarfed by the mountain that could be created from the near 7 million large resealable lids, measuring 8,848m – or the size of Everest.

Less plastic packaging means less plastic that needs to be incinerated, thereby saving about 70 tonnes of CO2 annually.
Every little helps
Emmi has set itself the target of a 20 % reduction in packaging material by 2020. Removing resealable lids is a step in the right direction. This and many other initiatives are only possible with the support of consumers. Thank you!

Marketing cookies necessary
Please accept the relevant cookie category to view this content