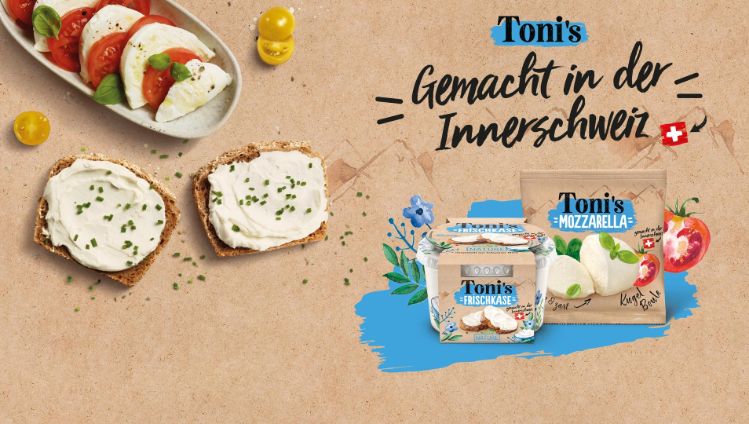 Lucerne, 28 March 2019
Toni takes on the heavyweights
Switzerland exported some 73,000 tonnes of cheese in 2018. A considerable amount of cheese – 62,000 tonnes – was also imported into Switzerland, however, 40 % of it fresh cheese from abroad. Toni's is now challenging this dominance.
Swiss consumers are only partly patriotic when it comes to cheese. While traditional cheese varieties including Le Gruyère AOP, Emmentaler AOP and Appenzeller® have for many years been secure in their top spots when it comes to the cheese consumption of the average Swiss person, another cheese is out in front: mozzarella. With other fresh cheeses equally popular, fresh cheese accounts for one-third of cheese consumption in Switzerland. And most of this is imported – primarily from Germany, Italy and France. While only just under 20 % of mozzarella is imported, 18,000 of the 20,000 tonnes of cream cheese consumed every year in Switzerland come from abroad. Since Switzerland continues to produce more milk than can be consumed domestically, Emmi sees a gap here that it would like to fill.
A Herculean task
As much as consumers love their Swiss milk, different criteria apply when it comes to fresh cheese. While it is reasonable to assume that the Swiss flag would add little value to mozzarella due to its Italian roots, the strong position of foreign cream cheese is the result of years of sophisticated marketing by major international corporations. For many people, eating cream cheese automatically brings to mind images of a beret, a baguette and Provence. Emmi wants to replace these Mediterranean clichés with Swiss milk and wholegrain bread. The new Swiss brand taking on the European competition is Toni's, from Central Switzerland, and its Swiss cream cheese is available now from Coop in three varieties: original, garlic & herb and horseradish.
The mild taste and creamy consistency are based heavily on successful foreign rival products. Visually, Toni's is down to earth and Swiss but also in line with current trends. Together with the attractive price, this should help persuade consumers to change their long-standing habits.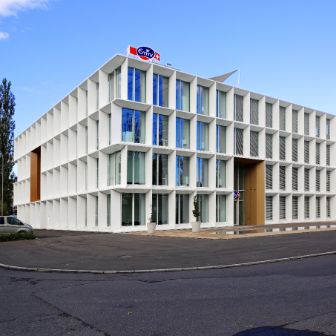 About Emmi
Emmi is a major Swiss milk processor. The company dates back to 1907, when it was founded by 62 dairy farming cooperatives around Lucerne. Over the past 20 years, Emmi has grown into an international, listed group. It has for many years pursued a successful strategy based on three pillars: strengthening its Swiss domestic market, growth abroad and cost management. Throughout its corporate history, Emmi's keen awareness of its responsibility to society, animal welfare and the environment has been fundamental to its mission.
In Switzerland, Emmi manufactures a comprehensive range of dairy products for its own brands and private label products for customers, including leading exports such as Emmi Caffè Latte and Kaltbach. In other countries, its products – mainly speciality products – are manufactured locally. Alongside cow's milk, it also processes goat's and sheep's milk.
In Switzerland, the Emmi Group has 25 production sites. Abroad, Emmi and its subsidiaries have a presence in 14 countries, seven of which have production facilities. Emmi exports products from Switzerland to around 60 countries. Its business activities focus on the Swiss domestic market as well as western Europe and the American continent. Half of its CHF 3.5 billion in sales – over 10 % of which stems from organic products – is generated in Switzerland, the other half abroad. It has over 6,000 employees who are also spread equally between Switzerland and other countries.